Editor's Choice 2015: Our favorite ride gear
Originally posted on December 18, 2015 at 12:48 pm
This is Dirt Rag's second year doing an official "Editor's Choice." With editorial staff of all shapes and sizes, spread out all over the country, we can't just pick one product per category and call it the best.
Also notice our timing. While we could do this in the early spring, how much ride time do you think those early season awards are based on, if any at all? Waiting until the end of the year allows us to consider all the products we've used.
And finally, notice not all these products have been reviewed (some we've shelled out our own money for), nor are they all from our advertisers. We're doing our best to be honest with our selections here, and each one is deserving of its award on its own merits. While you can buy us a beer, you can't buy our editors.
Continue reading for products from Gore, Hydro Flask, Smith, Shimano and Sombrio.
---
Gore Alp-X Clothing
MIKE CUSHIONBURY
Editor-in-Chief
Gore's mountain-bike apparel has fast become my favorite go-to clothing. Leading the charge is the Alp-X Pro Windstopper jersey with zip-off sleeves ($219). Considered a jersey and jacket in one, it's super comfy, minimalist and warm. Sure, long sleeves are great when deep winter temps are here, but I wear this jersey sans sleeves on cold, rainy days down into the low 50s because it's warm at my core when it needs to be yet breathable if the day gets warmer than expected—and I don't have to carry a vest or arm warmers.
The 2in1 shorts ($220) are the best "baggies" I've ever used: slim fitting, amazingly comfortable and super light for summer because they're constructed as a single piece rather than a bulky shell over a separate chamois. And the Windstopper Soft Shells ($140) are perfect for the shoulder seasons as well as winter. A slim cut makes moving around on the bike snag-free; water protection as well as core warmth are fantastic.
Price: varies
More info: goreapparel.com
---
Hydro Flask stainless water bottle
ERIC MCKEEGAN
Tech Editor
This 21-ounce, vacuum-insulated bottle has been around the world with me in the last year. It's saved my hide with hot tea to thaw out a frozen hydration bladder during a midwinter fat bike race and carried cold beer on hot mountain bike rides. It's been left behind and recovered in airports on three continents. It also kept cider hot for five hours on an extended urban tour.
If this sounds like I've become attached to my little orange bottle, I have. Keeping cold things cold and hot things hot is a simple luxury I've come to appreciate, and in the case of the fat bike race mentioned above, it may have saved me from a dangerous case of dehydration. Sometimes the simple things in life are the best.
Price: $28
More info: hydroflask.com
---
Smith Squad MTB goggles
ADAM NEWMAN
Contributing Editor
The Fashion Police can chuckle and sneer all they want about riding with goggles and a half-shell, but the joke's on them because while they think I might look like a dork, I'm looking down the trail with an uninterrupted field of view and without dust or dirt in my eyes.
Designed specifically for mountain biking, the new Squad MTB goggles feature a great lens with tons of ventilation in the brow. Because of the ample padding and the fact that they sit farther away from your eyes, they never get sweat on the lenses either, a huge pet peeve of mine with normal sunglasses.
The Squad goggles ship with an Ignitor Mirror lens that's perfect for cutting down the glare while still boosting contrast in dark woods. I've worn them in bright sunlight and in the rain without a problem. The goggles also include an extra clear lens.
The best part of these, and the reason they get my pick, is they sell for about half of what you'd pay for a pair of high-quality sunglasses.
Price: $60
More info: smithoptics.com
---
Shimano SH-M163 shoes
MATT KASPRZYK
Former Art Director
Lots of us are using Shimano's trail pedals. Why not get a shoe that's designed to be paired with them? The new M163 shoe has an outsole stiffness in the middle of comfort and competition. With the wider contact area of the new PD-M8020 trail pedal, the power transfer from an ultra-stiff shoe isn't as important. However, comfort is always important for a trail/enduro shoe. The SH-M163 is a great balance of all-day comfort and performance.
It provides good traction off the bike with a variable-density, durable rubber outsole with decent toe protection while riding. Keep these on your list if you're hunting for an all-day trail shoe that pairs perfectly with your new pedals.
Price: $150
More info: bike.shimano.com
---
Sombrio Pinner Shorts
JUSTIN STEINER
General Manager and Photographer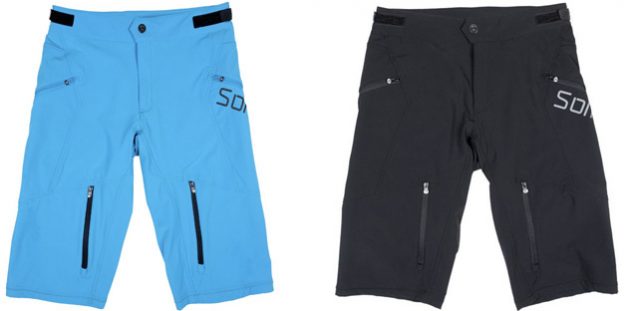 Sombrio bills the Pinner as "the original freeride short," but I found them ideal for everything from days in the bike park to long trail rides. The Pinner's four-way stretch fabric is best thought of as a lightweight soft-shell material. A tightly woven exterior with a DWR finish turns away moisture nicely and a soft terry interior feels great next to skin. The material breathes well, and vents on the front of each thigh facilitate ventilation. Even so, the material does have some heft, so these shorts are not ideal for very warm temps.
For me, the fit is roomy without being baggy and adheres nicely to Sombrio's sizing chart. These shorts have held up very well throughout the year. Highly recommended.
Price: $120
More info: sombriocartel.com
---
Continue reading Editor's Choice with our top bicycle picks and component picks of 2015. 
Subscribe today so that you never miss any of our bike and gear reviews.