Blast From the Past: The Bobby McMullen Interview
Originally posted on December 10, 2015 at 12:57 pm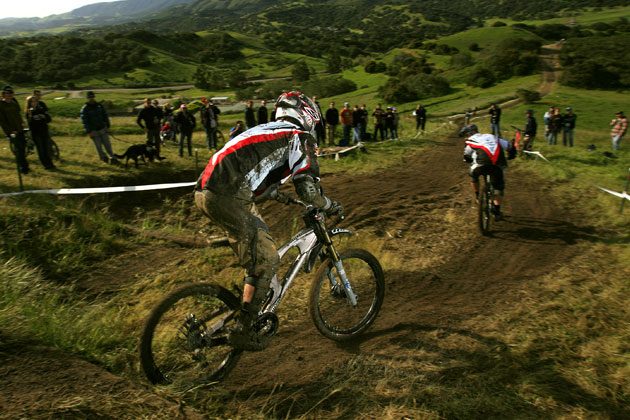 Editor's note: Then-editor Michael Browne interviewed blind mountain bike racer Bobby McMullen for Dirt Rag Issue #122, published in July 2006. We're happy to report that McMullen is still shredding. You can follow him via Facebook or rideblindracing.com.
---
The act of riding a mountain bike requires amounts of athleticism, coordination, balance and attention that most people simply don't have. If you narrow that relatively small class of people down to those willing to race bikes downhill, on technical and physically demanding courses, that group gets even smaller. Now, take that select portion of riders and ask around for the blind guy. Bobby McMullen is the one who'll respond with a resounding "Hey bro!"
Blind since 1991, Bobby McMullen is in a class of his own. A former diabetic and two-time kidney/pancreas transplant patient, Bobby also happens to be one of the most positive and enthusiastic riders on the race scene. I had the chance to catch up with McMullen at the 2006 Sea Otter Classic, where he raced downhill and cross-country on an extraordinarily muddy race course.
—Michael Browne
Dirt Rag: Fill us in. Why are you here at Sea Otter, and how is it possible to ride blind?
Bobby McMullen: My name is Bobby McMullen and I'm here because I ride for the WTB/ Fox/Santa Cruz team. I'm a blind downhiller and cross-country racer who rides about a bike length or two behind a guide. I'm blind, but I guess the technical definition is that I'm visually impaired. I don't see out of my left eye at all, and my right eye is 20/1200 with the best correction lenses I can find. I tell people it's like looking through a rolled up piece of paper with Vaseline over the end. Or a really bad Monet if you're one to know Monet.
DR: Have you always been blind?
BM: No, I lost my sight 15 years ago. I was born a diabetic and I lost my vision to proliferative diabetic retinopathy. Since I was in law school at the time that I lost my vision, I figured the next best thing would be to join the U.S. Disabled Ski Team as a downhill racer, which was a sport I was heavily involved in prior to my blindness. I did some National Championships and did pretty well even at the World Cup level. But then my kidneys failed for the first time, which forced me onto the kidney dialysis machine, which is no place to be. I got my first of two kidney and pancreas transplants in 1997. With the new pancreas, I was no longer a diabetic. Unfortunately, it shut down in 2001, and I went back on dialysis for another two years, waiting for another kidney and pancreas. Since age 18 or 19, I have found cycling to be a great training tool for ski racing and other sports. As a visually impaired athlete, I found riding down the ski courses on a bicycle was a great way to build the athlete and guide relationship.
DR: How did you decide this was something you wanted to pursue?
BM: I've always been pretty aggressive in the way I live, and I was determined when I lost my sight not to give that up. I knew I'd have to do things differently. I'd heard about disabled athletes who ride with guides and I just made the decision that I was still going to ride my bike and ski.
After my second transplant, I swore I was going to take it easy and slow down a bit, but I thought I could take those skills I'd learned as a downhill ski racer and combine them with the little bit of riding I did as training. I started to do it for cross-country races, and in 2004 I came to my first Sea Otter Classic to give it a try. That's when I really fell in love with it.
DR: How do you describe the experience to someone who's never seen you race?
BM: Effectively, my guide needs to be about a bike length or two in front of me. I need to have some sort of contrast from him—once he gets outside of two bike lengths, I'll lose him in the grey that is the background. If the course is muddy and my guide is wearing dark clothes, he'll be camouflaged out there.
I know I'm going to get knocked around every time I ride, but I'll listen to the wheels spinning on hard ground or the sludge of him hitting mud.
It's a very audible experience for me—when it's time to shift and go up a hill, my guide tells me "shift, up, up, up!" "sit back" is a big one this weekend since it's so muddy.
"Hup, hup hup" means fast, and I repeat things like "go, go, go" "I'm on, I'm on" "I'm clipped in … "
It's like a really bad game of follow the leader. I'm back there, and he's yelling "left, left," and I'll yell "I'm left, I'm left … " My voice as a reference lets him know that I'm on. When he doesn't hear me, well, I could be somewhere else. But I'll also tell him. "I'm down. I'm off."
DR: How does a good guide communicate a turn?
BM: It's all in the inflection. A medium right is "right … right … right" If it's a sharp narrow turn, it's "slow, rightrightright."
The tough thing is that once you're halfway through the turn, your guide has to start planning the next one. He has to think out loud and verbalize those commands before I get to it. The guide is thinking it, and I'm doing it. "rightright, shift, up, up, up … " Downhill is "straight, straight, straight, stay off the brakes."
The guide's job is to keep things really basic and simple. He commands my technique rather than the texture of the trail. If it's slippery and there are a lot of holes, he'll say, "Stay back, pull up. Feather that front."
DR: What's the cue for "drop" or "jump"?
BM: "Pull up." [laughs] You have to understand that I walk it all first. I'll feel it all. I'll touch the landing to see how long the run-out is. I'm working on jumping, but it has to have a perfect landing. With the right run-out, I can do about two bike lengths. Drops, I'll go five or six feet. I'll ride my V-10 and just pull back.
DR: You've described hearing as a large part of the experience. How does a full face downhill helmet impact your riding?
BM: Well, different helmet styles are certainly more advantageous. This Giro helmet has vented slots that help me hear pretty well. I've also used a Troy Lee helmet and that seems to provide the maximum amount of protection you can ask for. I try to find the right balance between protection and hearing ability, because there are definitely times when I've stuck it face first in the mud or into a tree.
My guide Mark Weir uses an open face helmet on the downhill course so that I can hear him, but I just have to make sure I'm talking loud enough for him to hear me.
The cool thing about Mark is that we don't do any yo-yoing. The gap between us is so consistent that it brings confidence. He's always right there, and that's the first time I've experienced that consistency.
It's an amazing education to ride with someone at that level. I wish everybody could have that experience—not to ride blind, but to ride with a professional rider.
DR: These bikes you're riding are considered some of the more visually appealing bikes around. With your blurry, pinhole view of the world, how do you appreciate and understand them?
BM: I'll get my nose right up on it and follow the lines. I once did the bike portion of a triathlon for challenged athletes, and one of the guests was Robin Williams who's a huge bike fan. He took his time with me and we started talking bikes. I asked him, "Do you mind, Robin?" in reference to his bike. And I just started stroking the thing and I got my nose up on it and I could hear him laughing in the back when I got to the seat. But I just had to tell him, "Sorry Robin, I'm not sniffing your seat."
But I love bikes. I love the lines of the Nomad, and I love the feel of the downhill bike. Understanding a bike is almost like going through the buffet line—I can't tell you how many times I've hit my head on the sneeze guard. I do what it takes, and I use what I have.
DR: You have a great way of looking at life.
BM: Thanks. I credit my parents, my family and my friends for who I am. My dad and mom are some of my best friends. I have the love of my life who shares the same passions.
Some people have asked me if I got depressed when I lost my sight, and I said, "I don't know what that word means. I've never had a depressed day." So I challenge all the doctors in the world to figure me out.
Someone asked me the other day what I did when I learned I was going to lose my sight. I went home, looked at my parents, looked at my dad and said, "I'm fucking going blind," and I cried my eyes out. I put my hands on my knees, cried a bit more and said, "let's go get something to eat."
So many clichés apply to my situation. It's not what you have, it's what you do with it. You can fall down seven times, but you get up eight. It just comes down to making the decision to do what you want, to hang out with the people who put a smile on your face—because all of these things, these transplants and procedures, wouldn't mean a thing to me if I couldn't keep doing all of this, with the people who are here with me now.
And here I am, a blind guy who's going to go crash his way down the downhill course.
[ Ed note: Bobby tumbled his way down the Sea Otter Downhill course to a 17th place finish in the Sport 40–49 class. Shortly after his event, race officials installed a bridge over the mud hole at the top of the trail, where many riders gathered in awe of McMullen's audacity. After Sea Otter, he set out to race across America in the 2006 RAAM event with Team Donate Life, a team of eight disabled riders.]
Bobby's Guide, on Bobby
Dirt Rag: Tell us about Bobby.
Mark Weir: Bobby? Well, he's blind, and I know he can't see a damn thing. But I didn't always know this. One time, we were doing a photo shoot for a U.K. magazine and I was guiding him through the same bermed turn over and over. I was giving him the same commands, "left, left, left … " and after the fourth time, I figured he'd get used to it, you know, get familiar with the turn. So on that last run, I just stopped giving him commands. And you know what? The guy's really blind! I lured him right into a big stack of brush.
He carcassed, and I laughed at him, cause that's the kind of relationship we have. He said, "Look dude! I can't see anything. You can't do that!"
I call him the highest maintenance blind guy I've ever met. And I'm not sure what he calls me, but I'm sure he'd say it with the same affection. Sure he's high maintenance, but you have to be when you're blind and you don't have a dog or a cane. All he has is his bike, me and anybody else who's willing to ride with him.
And he's a helluva rider—he just broke his personal record at the Spring Thaw in Ashland, Oregon.
Keep reading
We've published a lot of stuff in 26 years of Dirt Rag. Find all our Blast From the Past stories here.