Review: Scott Spark 700 SL
Originally posted on November 21, 2015 at 20:00 pm
From Issue #182
The dry, kitty-litter-covered trails of Bootleg Canyon in Nevada can be a cruel testing ground. The twisty singletrack is nearly traction-less and the many rock formations are often not for the faint of heart: While small, they can be steep and often located in turns.
In the realm of modern mountain biking, this terrain is perfect for a slack-angled trail bike if going fast and having fun is what you're after. But that wasn't my bike style of choice; I went full cross-country with a carbon fiber Scott Spark 700 SL. This was my first ride on this test bike, which would soon make its way to the East Coast for more miles.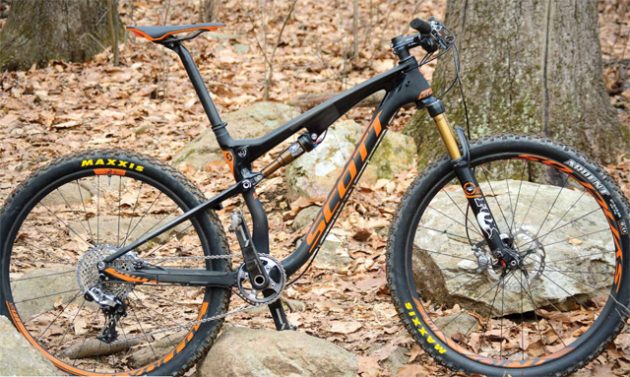 The Spark utilizes a "geometry chip" with high/low settings to change bottom-bracket height by six millimeters and steepen or slacken the head angle by half a degree. I left it in the low/slack position for Bootleg as well as for my local Pennsylvania trails, which resulted in a 68.3-degree head angle—unheard of by cross-country racing standards—and a 13-inch bottom-bracket height. This setting provided unparalleled confidence in rough technical sections and high-speed chutes. I was able to get my weight back over the rear wheel to easily keep the front end light, never dropping into a gap or catching on a transition from steep rock face to flat dirt.
Cornering was never an issue either. On slick terrain the Spark was confident and assuring, like a good all-mountain bike. Climbing prowess was impeccable, as you'd expect, and pedal strikes on rocks were never an issue in the low setting. It also didn't hurt that the Spark has 120mm of front and rear travel to soak up the hits, compared to the 100mm often found on dedicated cross-country race rigs.
The Fox 32 Float fork and Fox Nude rear shock have three settings: Climb, Traction (Trail, in Fox parlance), and Descend, controlled by a single TwinLoc handlebar-mounted lever. I found myself flicking the TwinLoc lever as much as I poked at the SRAM XX1 shifter. I was initially skeptical about this system, but that was based on previous experiences with the less-than-adequate DT Swiss rear shock that Scott used for years.
Last year's move to a Fox system is a game changer. I used Climb mode a bit, but mostly Traction for the best mix of acceleration and Velcro-like wheel grip over rough, loose desert trails. On the slower, rocky-and-rooty singletrack of the East I choose Descend mode for the best mix of plushness, control, and climbing on less-than-ideal surfaces.
Though weight is just over 21 pounds (without pedals), I immediately switched the Schwalbe Thunder Burt EVO semi-slick tires to the more useful and versatile (and perhaps a touch overkill for an XC bike) Maxxis Ardent 2.25s. The increase in traction and performance on my unpredictable East Coast trails in fall and winter raised the weight to 22.1 pounds, which to me was a fair tradeoff.
It's amazing to think that just a few years ago cross-country racers relied on twitchy head-tube angles in the 70-degree-plus range. Today, Scott has almost gone into the 67-degree range for its World Cup–level cross-country race machine. Not only does this make it a potent race weapon, but with 120mm of travel it's one hell of a fun bike to ride anywhere and everywhere.
Price: $9,000
Weight: 21 pounds (without pedals)
Sizes: S, M (tested), L, XL
More info: scott-sports.com