Dirt Rag Editor's Choice – Adam's Honorable Mentions
Originally posted on November 27, 2015 at 8:00 am
Editor's Note: Our 2015 Editor Choice Awards are out now in Dirt Rag Issue #188. But those items aren't the only things we were impressed with this year. Here is a list of honorable mentions from our previous web editor (and current contributing editor and editor-in-chief of Bicycle Times, our sister mag).
If you want to know what we chose as our favorite bikes and gear of 2015, pick up the new issue off a newsstand near you, purchase a digital copy or subscribe now and never miss another magazine.
---
Alpinestars All Mountain Jacket – $200
You'll be shocked to hear that it can be quite damp here in the Pacific Northwest. Staying completely dry is almost an impossibility, but a rain shell is on my body or in my pack the majority of the year. While there are countless thin, packable shells on the market, the Alpinestars All Mountain jacket is the one that checks all my boxes for nearly year-round use.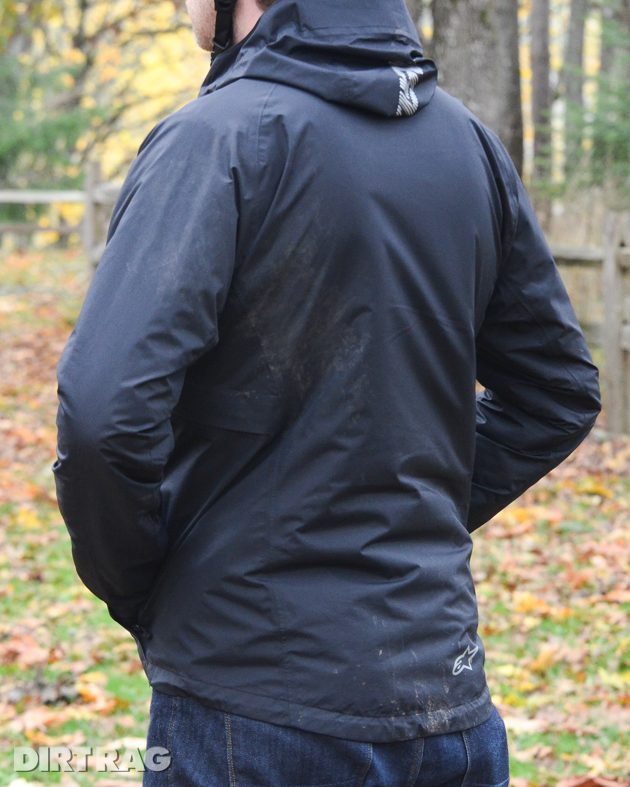 The cut is casual enough to layer over sweaters or even a puffy coat, but is still cut for cycling with long arms and a dropped tail. The features are kept to a minimum, keeping the jacket light and streamlined, but the ones I really need are there: namely hand warmer pockets and zippered pit zips. The cuffs have a Velcro adjustment to keep out the wind and the hem and hood have minimalist drawcords.
The shell itself is a two-layer, breathable shell, and while it's still thin enough to fit in a small hydration pack, it's not the paper-thin material that I worry about tearing. I've scraped it across countless trees, gotten it completely muddy and generally treated it like crap and it's still my go-to choice when the skies grow dark.
There are probably less-expensive options on the market (and certainly more expensive ones) but the All Mountain Jacket is a sure bet for keeping you comfortable on the bike.
Jandd fanny pack – $8 (used)
It's true we get to test a lot of fancy gear here at Dirt Rag, but awesomeness knows no price and no age.
I picked up this fanny pack for $8 in a secondhand outdoors store and I find myself reaching for it all time on short rides that don't require a full backpack. Jandd is the real deal when it comes to old-school Made-in-USA quality and durability (and its style hasn't changed much). Vintage outdoors gear is back in style so this little guy came with extra street cred.
The main compartment has plenty of room for my phone, keys, tube and tools. Water bottles fit perfectly in the two side pockets, but my favorite setup is water in one and a cold beer in a koozie in the other for a little trail-side refreshment.
The best part is the adjustable lumbar straps, which allow you set the angle of the bag and really keep it in place better than just cinching down the waist strap super tight. I wear it low over my hips where I can keep it snug without it digging into my belly.
Hit up eBay or your local swap meet and see if you can pick up some unique gear of your own.
Catalyst iPhone 6 case – $70
Chances are few pieces of gear have changed the world as much as smartphones. Beyond mountain biking, they have become indispensable tools of everyday life. My iPhone helps me navigate to the trailhead, snaps photos along the way, records my GPS for next time, and most importantly keeps me in contact with the outside world should an emergency arise.
But these tiny, expensive computers are fragile and worth protecting. The Catalyst case is waterproof to 16 feet and drop proof as well … I've dropped it a lot. The rubber bumper around the edge makes it easy to hold without that slippery feeling of the naked iPhone case.
The round knob on the side controls the silence button, and there is a tiny loop in the corner if you want to attach a lanyard. The power port and headphone port are accessible behind a small, pull out gasket, which did come off a few times but luckily I never lost it. In fact, each component of the case (front, back, gasket, etc.) can be purchased separately and replaced if lost or damaged.
I've used and abused the Catalyst case for almost a year and aside from a few scratches in the clear screen cover, it looks good as new. Previously, I used a LifeProof case and, in my opinion, the Catalyst is better in every way. It's also available in a bunch of colors and versions are available for most modern iPhone variations.