Dirt Rag Editor's Choice 2015: Mike's Honorable Mentions
Originally posted on November 23, 2015 at 8:00 am
Editor's Note: Our 2015 Editor Choice Awards are out now in Dirt Rag Issue #188. But those items aren't the only things we were impressed with this year. Here is a list of honorable mentions from our editor-in-chief.

If you want to know what we chose as our favorite bikes and gear of 2015, pick up the new issue off a newsstand near you, purchase a digital copy or subscribe now and never miss another magazine.

Vittoria Barzo – $55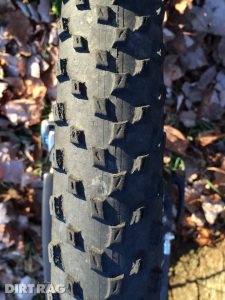 Vittoria has been releasing some impressive tires lately and the Barzo has been my go-to cross-country tire for the last year thanks to being a true all-around trail performer and not a flimsy, "race-day only" tire. It's fully lugged and has a wide, round, 2.25-inch casing. At 650 grams for a 29er, it's still reasonably light and very durable. It's one of the fastest rolling fully lugged tires I've ever used. It bites the earth in wet and dry conditions superbly, has good corning feel and—through a summer of East Coast XC riding and a stage race in Israel—I have yet to get a puncture.
I've been able to run tire pressure below 20 PSI on the front with great results without the tire squirming or steering funny. Besides the awesome traction and control in rough, technical sections thanks to the lug pattern and wide carcass the Barzo is a fast rolling tire on smooth fireroads and even on pavement if you ride to the trail. The TNT tubeless ready bead seals up with a floor pump as well which is a nice added bonus.
Specialized Command Post XCP – $450

I've pretty much made the commitment to dropper posts on every bike and the last one to make that change was my cross-county bike, the style of machine I ride most. Specialized's carbon Command Post XCP is a beauty of a dropper that weighs just under 400 grams (for the 350 mm length without lever and cable) and has 35 mm of travel. For most trail and XC riding, that has been just enough. Dropping it means I can get nice and low back behind the saddle. Another benefit is that with just one setting that is 35 mm lower than my normal saddle position, I can drop it in technical pedaling sections and still turn the cranks without power loss and with an added degree of confidence.
The post is internally routed, operates via a shifter cable and has an air chamber so you can adjust rebound speed. Certainly it's not for everyone but, for my style of riding, it's a top pick.
SRAM Rival 1x –  $1,357 (w/hydraulic disc brakes)
The technology behind this road group is the same as what you find in the dirt version. The wide-range 10-42 cassette is the exact same. The straight parallelogram and narrow/wide pulley tooth design and the chainrings have the same X-Sync narrow/wide tooth profile. All these put together is what makes SRAM Rival's 1x work flawlessly without dropping the chain.
After some debate I chose a 48t ring to go with the wide range cassette since this was going on my primary road/gravel bike. The highest gear is equal to a 52×11 and my lowest matches a 34×28.
After months of riding Rival 1x on dirt, gravel and pavement I can say it performs flawlessly. Dirt and gravel is its obvious home turf. It's completely silent with no chain slap against the chainstay and I've never dropped a chain or had shifting issues over washboards and other rough terrain. My gearing choice was certainly low enough for the steeps but, if not, there's always the option to go with a smaller front ring—all the way down to a stump-pulling low of 38t to go with the big 42t on the cassette.
Is road 1x for everyone? Probably not. Will it replace a tight-ratio double ring set-up? Certainly not. However, it is a viable alternative for a great many riders who want to further simplify their bikes and who aren't focused on high-end road racing. For me, it fits the bill perfectly.
Pivot Mach 429SL Carbon – $2,999 (frame and shock)

Even in a sea of excellent all-mountain and trail bikes on the market, I still prefer a good cross-country bike on most trails. Even though I'm not racing as much these days, I enjoy the quick handling and nimble performance that this style of bike provides.
Admittedly, Trek's new and very capable  Top Fuel 9.9 SL vied very heavily for honors here but, because it's more specific in its race bike heritage, its performance breadth may be limiting to some riders. Which brings me to the Pivot Mach 420SL Carbon.
This frame came standard with a Fox Float Factory shock and a 120 mm travel fork but the geometry is designed to work with a 100 mm travel fork, as well. The bike's stiffness and seemingly bottomless suspension creates a feel of confidence not usually associated with 100 mm travel frames. Of course, the fact that the geometry is adjusted to comfortably accept a 120 mm fork certainly adds to that go-anywhere attitude.
When climbing, the 429SL has just a touch of movement at the very top of the stroke to maintain traction on technical climbs with excellent anti-squat from the dw-link design to keep the bike feeling fresh and spunky when really putting power to the pedals on smooth sections. Generally, I kept the both the front and rear suspension set in "Trail" mode for majority of my ride time, only using "Climb" for long sections of smoothness and "Descend" when I knew it was time for a long downhill.
On the East Coast's rough and rocky trails, Pivot's "active" dw-link characteristics made it feel planted and confident at any speed. Its geometry, while stable at speed, makes it one of the tightest handling 29ers I've ridden. The Mach quickly sneaks around the tightest of switchbacks both climbing and descending. Out west, on the faster open trails with more sustained climbing, the 429SL made it easy to maintain speed through sweeping corners with precise steering. As for my setup, I use a 120 mm travel fork, dropper post and relatively wide 2.25-inch tires to fully enjoy trail bike fun from this cross-country racer.