Blast From the Past: The Power of Pump
Originally posted on November 19, 2015 at 9:00 am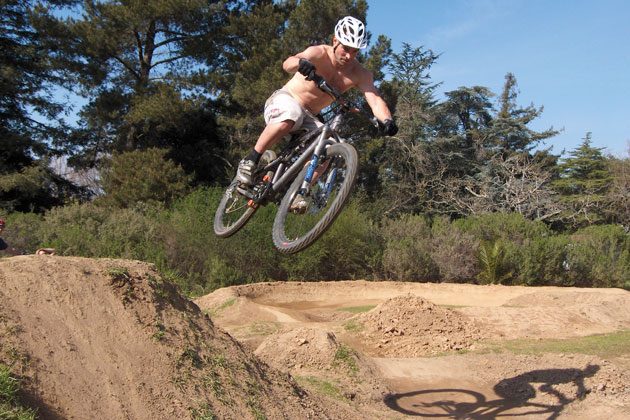 Editor's note: This article by Lee McCormack first appeared in Dirt Rag Issue #123, published in August 2006.
---
These days you don't have to reel in 20 miles of singletrack to feel like a mountain biker. You can blitz a downhill run, mess around at a skatepark, session some jumps or make a playground out of your city. Whatever you're riding, it's all good.
The pump track is the perfect representation of this new sensibility. They fit just about anywhere. They're relatively safe. They're challenging to ride. They create better riders. And they're really, really fun.
Pumping is simple: just absorb any surface that faces the way you're coming from, and push down into any surface that flows with the way you're headed. Part of this push gets translated into forward motion and, voila, you gain speed. You can pump any bump: rocks, logs, water bars or curbs. A pump track is a laboratory for non-pedal propulsion: a loop of rollers and berms that can be ripped around without turning the cranks.
You start by working the rollers. Light, heavy, pull, push. You hit a corner hard and gain speed. The next set of rollers approaches fast. Too fast to roll—better manual. Pump another berm and you've reached 20 mph. Too fast to manual—better jump. You might hit a dozen rollers and four berms in less than 10 seconds. The workout is total, the speed is real and the possibilities are endless.
The first pump tracks were probably the BMX trails of the '70s and '80s. The modern pump track revolution traces to Australian downhillers. In 2003, a pro named Myles Mead told me about a track that slalomed downhill then looped back up—the guys were actually pumping rollers uphill. In 2005 Mick Hannah's steeply bermed backyard appeared in the movie "Earthed 2," and the world saw its first pump track.
Steve Wentz was just ahead of the curve. In December 2004 the pro downhiller built a 150-foot-long L-shaped track at The Fix Bike Shop in Boulder, Colorado. At first nobody could even ride the ultra-tight corners, but soon the local crew was sweeping off the snow and ripping on a daily basis. I posted the track on my site, www.leelikesbikes.com, and the Pump Track Nation was born.
Emails poured in from all over the world: Thailand, Sweden, Malaysia, Australia and throughout the United States. Tracks popped up in parks, lots and yards. Ray's MTB Park in Cleveland, Ohio, built an indoor two-lane pump track out of wood. This track was included in the 3Ride Pro Invitational event—the first sanctioned pump track race. Brian Lopes killed it.
Stoked on the Internet reports, pro-everything racer Mark Weir enlisted the help of expert digger Ryan "Beavis" Finney and built a track in his Marin, California, backyard. "I was looking on leelikesbikes.com, seeing how fun it was, and we had to go for it," Weir said. "As soon as it was done, I knew it was good times and addictive."
"There are so many different ways to enjoy riding your bike," said Weir, "and it all helps you in the long run. Pump tracks are the best way to stay fit in terms of time. Thirty minutes of pumping is like an hour of climbing."
At first, Weir could barely survive three laps. Now he busts out marathon pump sessions—four hours at 20 mph, in circles around his own yard.
Pump tracks build total-body strength, perfect timing, cornering kung fu and profound powers of terrain absorption. After a few pump sessions you become an entirely new rider. Bumps are no longer obstacles, they're opportunities to gain speed. And the idea even translates to other sports—motocross changes forever, and alpine skiing becomes a whole new sport.
"After pumping last winter I corner much better, and it's definitely helped me push through bumps," said pro cross-country racer Ariel Lindsley. "A pump track makes beginners into experts. And if you're already a good rider, it keeps you really sharp. It's low commitment, high workout and lots of skills improvement in a small area."
"It's an easy, convenient thing to build," said Lindsley. "If you get home from work at 8 o'clock you don't have to drive or fully gear up. Just go out and hit it."
While pumping is great training, it is foremost tons of fun and a great way to unite different types of riders. "At my track we barbecue and drink beers," says Weir. "Everyone comes out to ride or watch the pros rip. It's another way to invite people over and have something to do. Pump tracks are the new horseshoes."
Building Your Own Pump Track
Pick a good place: A flat area about 50 by 50 feet is ideal. Slopes
can be worked with. Funny shapes work too. Backyards are perfect—
who wants to mow a lawn?
No flat spots: Every square inch should tilt up, down or sideways.
You can't pump flat ground; keep it moving!
Start with the berms: Space the rollers between them. You should
have rollers right at the exits of the berms. No flat ground!
Make the berms tall and steep: You can generate close to three Gs, and
to rail that hard you need a 70-degree bank.
Make the rollers low and smooth: Many builders go too tall and steep,
which is very difficult to pump quickly. Keep your rollers down to
about 16 inches tall, with gradual faces.
Make it versatile: Sets of rollers can be pumped, manualed or jumped
in myriad combinations.
Consider drainage: So many sweet tracks become swimming pools in
winter. If you have a slope, use shallow ditches and pipes to route
water off the track. If you're working on flat ground, dig holes in
your low spots and fill them with gravel, French drain style.
Start simple: Build an outside loop first. Get that dialed, then add
cross-overs to multiply the options.
Do it right the first time: This cannot be overemphasized. The more
work you put into each roller and berm, the better it'll ride and
the longer it'll last. Don't rush the project. Build each component
perfectly before you move on. Pile. Pack. Water. Repeat.
Get ready to work: The pump track in my yard took 50 hours of hard
labor. It was definitely worth it.
For more info: leelikesbikes.com.
Keep reading
We've published a lot of stuff in 26 years of Dirt Rag. Find all our Blast From the Past stories here.