Personality: Andreu Lacondeguy
Originally posted on November 13, 2015 at 13:52 pm
Words and photos by Malcolm Mclaws
From Issue #187
Andreu Lacondeguy made his Crankworx debut in 2006. His arrival in Whistler, British Columbia, as a fresh-faced, clean-cut unknown was an introduction to someone who would become one of the most well-known and colorful riders ever. This is Little Andy.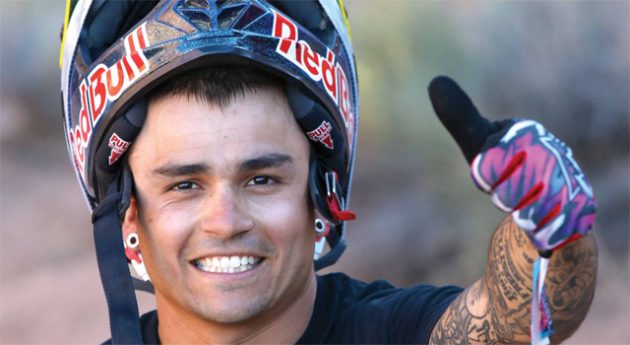 With a riding style that has always been more motocross- and freeride-influenced than classic slopestyle, it would only take two short years for him to step up to the top tier and claim the slopestyle title at Kokanee Crankworx in 2008. That same year he also became one of only three riders to land a double backflip on a mountain bike in competition at the Snowboard Big Air World Cup in Graz, Austria.
He has continued to push boundaries within the sport through contests and videos, always letting his riding do the talking. This year he won the Whistler Crankworx Whip-Off World Championship.
At just 26 years old with "Love Dirt" tattooed on his fingers, "Little Andy," as his friends call him, has a distinct attitude about where freeriding should be headed. He has won a lot, from Crankworx to Rampage, but still remains unsettled and wants to change the course of mountain biking.
To accomplish this, he has teamed up with Kurt Sorge, Graham Agassiz, Nico Vink, Makken Haugen and Nick Pescetto to form the Fest series (see video below), an innovative new series of week-long, invitation-only freeride sessions around the world, where only the riders involved vote on the best line, trick and jump, yet there's no official winner or series champ.
I GREW UP IN A LITTLE TOWN IN EL MONTSENY IN CATALUÑA [CATALONIA], SPAIN, ONE HOUR NORTH OF BARCELONA. It's a small town at the bottom of the mountains, so when I was a kid a bike was how I got around. I started riding cross-country when I was 10 and was a regional champion. Then I moved to BMX racing at 11. From there it was on … I learned how to jump a bike, and that changed everything!
When I was 12 I started downhill racing—that's when I first mixed in my BMX skills with mountain biking. Racing was sick, and it's how I learned to ride a bike. I got a contract with Team Maxxis when I was only 15 and traveled with the national team to learn from the old guys. I was national champ and won a few European Maxxis Cups. I even have a few photos with Josh "Ratboy" Bryceland and me on the podium.
I did over 100 races, and going fast was the main goal. That's how I still ride—I love to go fast. I think I'm still a racer, but I'm not racing the clock or others. I'm racing the hills.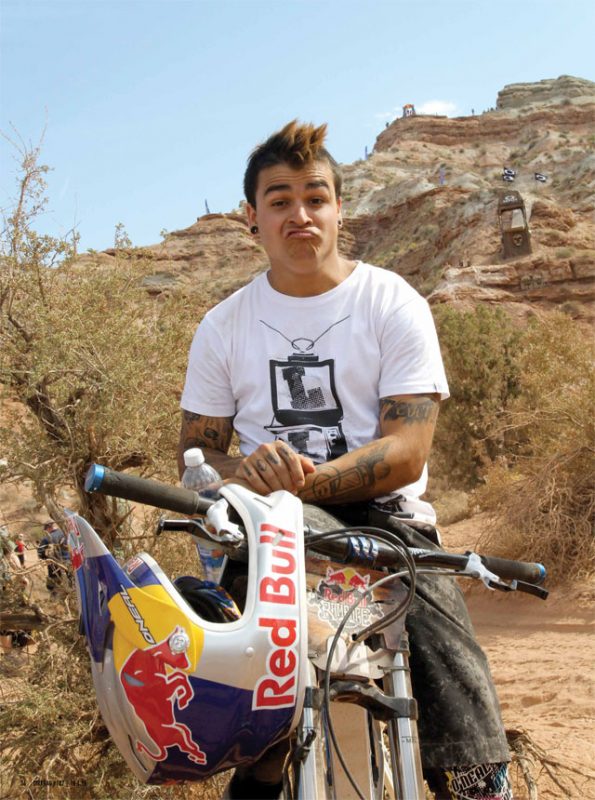 I WAS FAST IN DOWNHILL AND SLALOM BUT NEVER FOCUSED ON ANYTHING. Downhill racing was huge for me; I grew up racing the Spanish nationals and some European races. I looked up to Steve Peat and Sam Hill, and I was trying to look and ride like them—I think I still do.
SOCAL IS MY FAVORITE BMX SPOT FOR SURE. I always rode dirt jumps and skate parks on my 20-inch bike. I still do. BMX is super fun and easy to ride. I had some dream seasons in Southern California with BMX dirt-jump legends T.J. Ellis and Cory Nastazio that I'll never forget.
CAM ZINK IS ONE OF THE GUYS I RESPECT THE MOST. I think that he is by far the most confident rider to ever ride a mountain bike. He pushes the sport more than anyone I know, with the biggest 360 drops and flips over some crazy jumps. He's pushing the sport in the right direction, just going huge.
MOTOCROSS IS MY FAVORITE THING TO DO. I just love riding a dirt bike—it's the most badass machine ever made, and it's just insane what you can do with it. I got into moto when I moved next door to Edgar Torronteras—he's a freestyle motocross legend with more than five X Games medals, X-Fighter wins, European Supercross and motocross wins. So as soon as I met the dude there was no way back. I'll be burning gas forever!
WHEN I FIRST SHOWED UP AT WHISTLER [FOR CRANKWORX], I JUST WANTED TO SEND IT AS HARD AS I COULD. I was 16 years old and I didn't care much about anything. My hair was long and dirty. I was hung over and riding in a Misfits T-shirt. I won qualifiers and then overjumped the biggest step-down on the mountain when I tried to flip it and landed in the hospital. Those days were crazy, and we were all a little out of control.
I'VE NEVER SEEN MYSELF AS A CONTEST RIDER. I have managed to get a Crankworx gold, an X Games medal and a Rampage win. Contests are just too restrictive for me. I don't think that they are what riding means to me, so I'm not into them anymore.
X GAMES WAS CRAZY. I knew that the course wasn't going to be fun and went there injured with a broken finger and two bruised knees. When I first showed up in Munich, Germany, and saw the course, I knew that it was probably going to be a one-time chance to get an X Games medal. The course was so horrible that no one was able to ride the whole thing on the first day.
Finals got out of control because of the wind and all of the [other] Europeans decided not to ride. When I dropped in, everyone was crashing super hard in front of me, and I just made it to the bottom. I got third with a shit run but got a medal. It was weird. I was stoked but embarrassed. That wasn't freeride mountain biking at all.
I DON'T HATE SLOPESTYLE. I think it's cool, but why use the word "freeride" for a slopestyle event? Freeride is something a little bigger than a few ramps in a parking lot. I got bored of slopestyle events: rankings, cities, rules—I just want to go huge on my bike, and there's no way to do it on the FMB Tour. If you go big there, you land flat—I learned that the hard way, and I'm never going to go there again. Freeride Mountain Bike Tour? Call it Slopestyle Mountain Bike Tour, and freeriders will take care of freeriding.
I DON'T KNOW IF I'LL BECOME INVOLVED WITH ENDURO IN THE FUTURE. I just ride big jumps on my downhill bike. I don't think I will race, not when I'm older. Enduro is the new name for mountain biking, but if it helps sell more bikes, perfect.
THE FEST SERIES CAME ABOUT BECAUSE ME AND OTHER BIG MOUNTAIN RIDERS WERE OVER THE WHOLE CONTEST SCENE. We just created our own thing. We build and ride the best jumps and trails on the planet and film it. The Fest series is the best thing that ever happened to my career. We are the riders, we build the courses and ride them. Fest series is going be the most insane freestyle events in the world. Just riding and exploring new locations while building and filming sick lines.
THE FEST SERIES IS ALREADY GROWING REALLY FAST. We're going to make sure that the only benefits are for the sport. We're going with the flow, having fun and going nuts on our bikes. We'll see how it goes. I had more fun last year with Fest than ever, so I'm pumped about it.
RAMPAGE LAST YEAR WAS A GOOD WIN FOR ME. I came from riding the Fest series the whole year, so I was ready for it. I felt like I rode harder in Fest than at Rampage. Rampage is TV format, so I was being careful not to get hurt. There's huge media at Rampage and you want to be safe until the last run.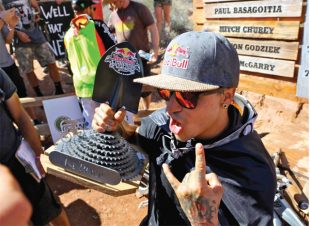 IT WAS ALL ABOUT CONFIDENCE AT RAMPAGE. I was going to win and that was it, there was no way around it. I was going to build the craziest line and ride it as fast as I could. I didn't need to step it up on my second run, and everything went smooth. I was happy that I proved myself and showed that if I really want something I can get it. That was kind of how Rampage felt for me.
CRASHES ARE ALWAYS THERE; IT'S WHAT MAKES IT FUN. The closer you get to going down the better it feels, but there's a price. I've had a few bad crashes, earlier this year with a broken knee, and it sucked.
I MOVED TO THE PYRENEES A YEAR AGO. I wanted to ride my bike every day, and moving to the mountains was the way to do it. I'm going to be working on a big project with Red Bull and La Molina ski resort, so I just moved there. I have great trails right at my house, and we are going to build some big jumps this spring.
2014 WAS THE BEST YEAR ON MY BIKE FOR SURE. I'm happy about Rampage and the great result, but the main thing is that it was when the Fest series was born. This is what I'm going to remember when I can't ride a bike anymore. I will always have 2014 in my head.