Dirt Rag Editor's Choice 2015: Justin's Honorable Mentions
Originally posted on November 25, 2015 at 8:00 am
Editor's Note: Our 2015 Editor Choice Awards are out now in Dirt Rag Issue #188. But those items aren't the only things we were impressed with this year. Here is a list of honorable mentions from our general manager and photographer.

If you want to know what we chose as our favorite bikes and gear of 2015, pick up the new issue off a newsstand near you, purchase a digital copy or subscribe now and never miss another magazine.

---
Showers Pass Rogue Pant – $110
Staying comfortable is key to enjoying rides through the fall, winter and spring. Good clothing is an essential part of that recipe. After reviewing the Rogue pants for Bicycle Times last year, they've become a crucial piece of my kit for cool-to-cold weather commuting, bikepacking, mountain biking and cross-country skiing.
The Rogue Pant is a casual-looking softshell trouser made with water-resistant stretch fabric and finished with a DWR treatment to further enhance moisture resistance. The tightly woven face of the fabric blocks most of the breeze and a good bit of moisture, while a soft terry interior feels great next to skin. These pants are styled and fit like a pair of relaxed fit jeans, but offer a gusseted crotch to reduce seam irritation and facilitate movement on the bike. Fit seems to run a little on the large size. I'm normally a 33- to 34-inch waist and the 32-inch Rogue pant fit me comfortably. If you're between sizes, you should be able step down a size without issue.
Wear them alone for cool days or layer underneath for comfort in much colder temps. The Rogue's combination of ample wind resistance and stellar breathability make them incredibly comfortable. I've worn them for everything from mountain biking, to rainy commutes home from work, to going out for a date-night drink, to all-day, cross-country ski session. This is one of the rare products that delivers a casual aesthetic to blend in with most any situation, and also offers the technical chops to keep you comfy in most any situation short of a heavy, sustained rain—they're not designed to be waterproof, after all. These versatile pants are worth every penny of the asking price.
NiteRider Pro 3600 – $700
Night riding season is upon us, particularly following the time change. If you're going to ride at night, you're going to need a headlight. Back in 2012, I tested NiteRider's new-at-the-time flagship, the Pro 3600. Fast forward three years and this 3,600-lumen heavyweight is as relevant as ever. It's even been updated with a remote switch and it now called the Pro 3600 DIY LED Remote.
The 3600 utilizes two symmetric beams that are broadcast by three CREE XML LEDs, each. NiteRider offers three settings in stock trim; 1,000-lumen "low," 1,800-lumen "medium," and 3,600-lumen "high" settings.
Cranked up on high, I'm able to descend at full-speed with confidence. In short, it's overkill for slow sections of trail, but absolutely confidence-inspiring at speed. For most of my riding, I found the 1,800-lumen setting to be more than sufficient, only cranking full power on the downhills.
As NiteRider's highest output light, the Pro 3600 is clearly its pride and joy. As you might expect, this baby carries a flagship-worthy pricetag of $700. A more budget friendly Pro 2800 Enduro Remote offers more than 75 percent of the output at less than 60 percent of the asking price.
Big Agnes King Solomon 15 and Insulated Double Z Pads – $450/$110
What's better than sharing the experience of camping with your significant other? Sharing the experience and the sleeping bag!
The King Solomon is a deluxe, 15-degree down sleeping bag for couples. The 600-fill power DownTek down is treated to be water resistant, which helps maintain its ability to insulate in damps conditions. Zippers run down both sides of the bag to make entry and exit easy for both parties. Convenient pillow pockets can be stuffed with clothes to make a pillow, or hold your existing pillow in place. When things get cold, the internal collar can be positioned around each person's head to maximize heat retention.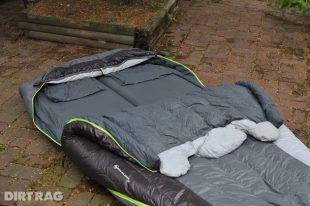 Like all Big Agnes bags, the King Solomon is not insulated on the bottom, but relies on the sleeping pad to keep you comfortable. Enter the Insulated Double Z. This 72 x 20 x 4-inch pad slides inside a sleeve on the bottom of the bag to keep it in place. The Double Z offers a two-way valve that greatly eases inflation and the whole thing threads out for speedy deflation.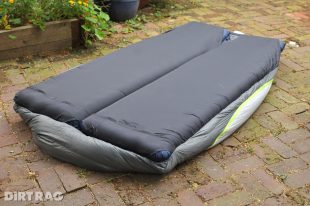 Once the system is all setup, it's supremely cozy. It's awesome to be able to snuggle up to your partner to share body heat. My lady and I have comfortably slept down into the high 20-degree temps while wearing only a few layers. Much cooler than that and you'll be searching for another insulating layer. Keep in mind the 15-degree rating is based on survival, not comfort.
Overall, this sleeping bag significantly increases the coziness of camping with your best pal, which is well worth the investment.