Rusch Job: Riding with no hands
Originally posted on November 11, 2015 at 8:00 am
By Rebecca Rusch
From Issue #188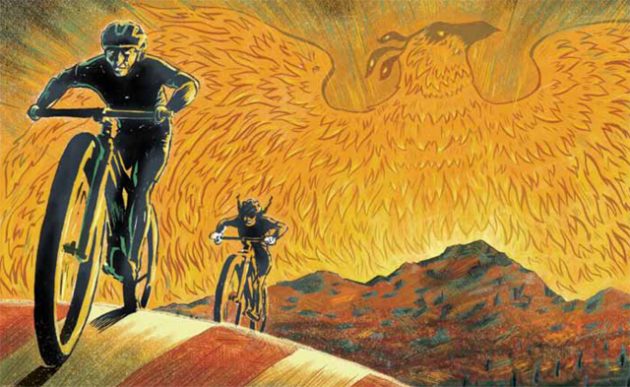 As a kid, being able to ride no-handed was a rite of passage and the pinnacle of bike-handling coolness. It's a killer move I never mastered until well into my 30s. I'd started bike racing and I'd won a few events, including three 24-Hour World Championships, but all I had in my toolbox was the lame one-handed salute crossing the finish line.
Before my first Leadville Trail 100, years ago, I made myself learn this skill so I could finish without being ashamed and could nail that coveted hands-in-the-air finish photo. I even practiced the day before the race, riding down 6th Avenue right where the red carpet would be, and in my mind I visualized the crowd, the noise and a fast time. I actually put my hands proudly in the air while pedestrians and cars looked on and smirked.
The next day, it played out exactly as I had visualized. I won, and even though every ounce of my fatigued being wanted to hold onto the bars, I nailed my first-ever hands-up victory pose.
2015 was my seventh Leadville, and for the first time, I was lining up near the back of the race. And I mean way back, behind thousands of riders. I'm accustomed to the pro call-up, elite staging and being able to see the empty course stretch out in front of me.
This year a sea of riders clogged the view. This year I was going to get an unexpected education from a different vantage point. I was racing with Army SSG Matt DeWitt— his third Leadville. During a 2003 tour of duty in Iraq, DeWitt lost both of his arms and suffered other extensive injuries when his weapon was struck by a rocket-propelled grenade during a firefight. DeWitt rode a bike before his accident and now riding is a big part of his emotional and physical recovery and well-being.
DeWitt's goal in Leadville was to break the 11-hour threshold for the first time. I was there to share my race experience and help him get there. We were racing as part of Phoenix Patriot Foundation (PPF), a group that helps provide equipment and opportunity for our war veterans. I liked what PPF was doing and wanted to help.
DeWitt agreed to let me ride with him and we began the process of getting to know each other. He was straightforward about how he goes about riding with no hands and the additional challenges he is presented with. Riding no-handed means shifting with his knees, braking with his butt and having
way less control of the handlebars. Had I not seen the prosthetics and the steel clamps, I would not have known he was riding with any sort of disability. You certainly can't tell from the way he bombs downhill, whips the bike around sharp corners and bunny hops obstacles. He is a bilateral amputee who just might handle a bike better than you do. And he does this while riding with no hands.
DeWitt was dedicated to his goal and crawled deep into the pain cave to get there. As we neared the red carpet at 6th and Harrison, the clock was ticking. Crossing under the banner at 10 hours, 52 minutes, I didn't take my hands off the bars to put my arms in the air. Instead, we busted out DeWitt's
signature move, a bunny hop. Wheels up is better than arms up.
I was supposed to be educating DeWitt on how to ride faster, but really, he was educating me on what it really means to ride with no hands and all heart.