Dirt Rag Issue #188 is out! Editor's Choice awards inside
Originally posted on November 5, 2015 at 11:58 am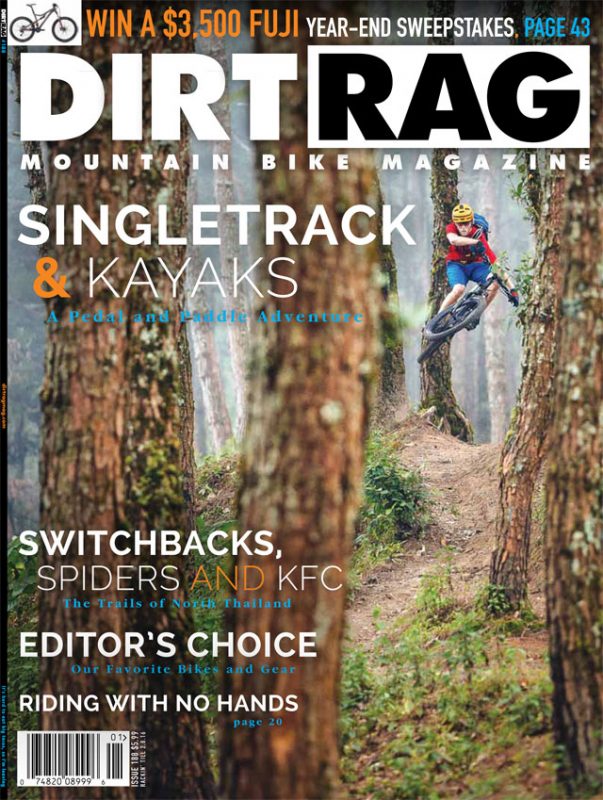 On the cover
Andrew Whiteford does some tree splitting in Northern Thailand. Photo by Jay Goodrich.

The Dirt and Readings
This year history was made when the U.S. held its first ever World Cup cyclocross race. We show you in The Dirt along with a first hand account by American 'cross racer Adam Craig in Readings. We also go to Novato, California, to ride the fabled "Ranch" at WTB's first ever Throwdown. Plus, a very special Rusch Job titled "Riding With No Hands."

Features
Switchbacks, Spiders and KFC, by Jay Goodrich
"I couldn't believe it, freaking KFC, only free-ranging, killed this morning, served at the perfect temperature and amazingly seasoned. We toasted with opposing chicken wings. Dinner was going to be simply amazing…"
Northern Thailand has jungles just outside its cities full of things that bite and squirm. It also has amazing singletrack, unique culture and incredible food to make it a true adventurer's destination.

Singletrack and Kayaks, by Dan Milner
"It looks farther when looked at through sober eyes."
Sea kayaking on its own is generally no big deal. What makes it harder is tying inflatable rubber rafts with mountain bikes lashed on them to the back of said kayaks. Now these once-streamlined vessels become slow, lumbering tugboats. It's like using Donald Campbell's record-breaking speedboat, Bluebird, to tow a barge.
The Fight For Winter Fat Bike Access, by Sarah Galbraith
With winter approaching, this month's Access Action examines the ongoing battle between various land (snow) users that threatens fat bike access in many areas and how it's being solved.
STUFF—Product Testing
It's time for our special Editor's Choice awards. Check out our top picks following a year of debate and testing.
Bikes also tested in this issue:
Cannondale Habit Carbon 1
Canfield Brothers EPO
Chumba URSA 29+ XT
KTM Lycan LT XX1
Polygon Collosus N8
Get A Copy
Get a copy of Dirt Rag #188 in our online store or at your nearest newsstand. Or quit putting it off and order a subscription and you'll never miss an issue.