Field Tested: Santa Cruz Highball 27.5
Originally posted on October 21, 2015 at 15:46 pm
From Issue #186
Earlier this year, the Santa Cruz Highball 29er welcomed a 27.5 little brother to the family, and the siblings are like two peas in a pod. The 27.5 Highball is designed to mimic the cross-country-oriented trail manners of its 29er predecessor. Sure, 27.5 and 29 bikes inherently "feel" different. But that's exactly the point: Let riders choose the wheel size that best suits them.
Highballs come in a base-level "C" carbon frame and an upgraded "CC" version. Both frames share the same geometry and functional features, but Santa Cruz judiciously trimmed the CC layup and shaved 280 grams. Complete bikes range from $2,799 to $6,799. Bare frames only come in the CC version for $1,899.
Our CC model retails for $6,299 with a SRAM XX1 build kit that features a Fox 32 Float 100 Kashima fork, SRAM XX1 rear derailleur/shifter, Race Face Next SL cranks/bottom bracket, Shimano XTR M9000 brakes (160 mm rotors) and DT Swiss 240 hubs laced to WTB Asym i19 TCS rims. The Maxxis Ikon 2.2 TCS tires come set up tubeless with Stan's NoTubes sealant.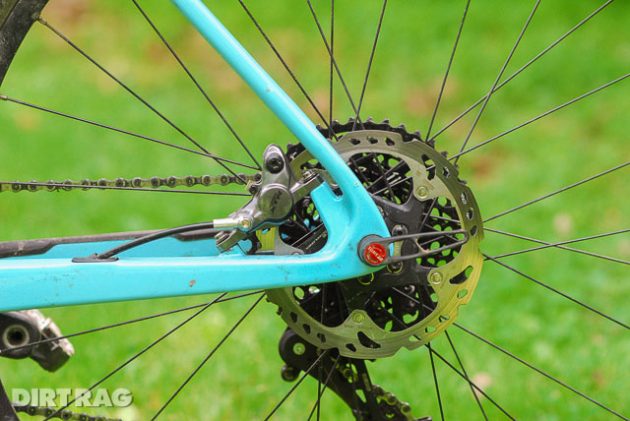 The clean-looking frame features internal cable routing, and the rear brake hose gets an internal guide tube to keep it from rattling. A detachable plate on the underside of the bottom bracket allows convenient access to the cable guides. The tapered head tube, 142×12 mm rear end and 73 mm threaded bottom bracket ensure wide-ranging component compatibility.
With a 27.2 mm seatpost and no cable guides for a dropper post, the Highball probably won't tempt many rowdy riders. Its racy, cross-country vibe is more likely to attract those who view droppers as unnecessary complexity and weight. Santa Cruz claims that the 27.2 mm post affords some compliance, compared to larger-diameter seatposts. So there's that.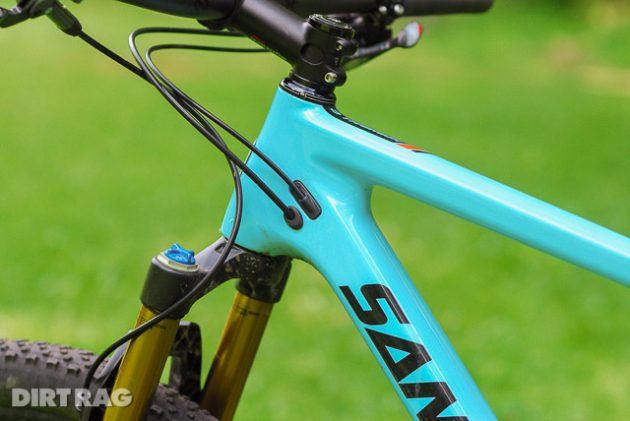 The Highball 27.5 feels fast and light on its feet. I'm not only talking about the sub-20-pound weight; with its 69-degree head angle and quick-turning 16.7-inch rear end, the Highball 27.5 threads through
twisting terrain with instinctive ease. And she loves to run! Flick her into the corner, exit on the gas, mash the straightaway, repeat. It's worth mentioning that the feathery carbon frame felt flex-free when cornering or accelerating.
There's a long-and-low feeling of stability that inspires confidence in fast, sweeping curves or when descending. I credit the longish 24.6-inch top tube (which stretches the wheelbase out to 44.1 inches) and low-slung 12.4-inch bottom bracket for providing just the right amount of stability to balance and complement the Highball's quickness without overpowering it.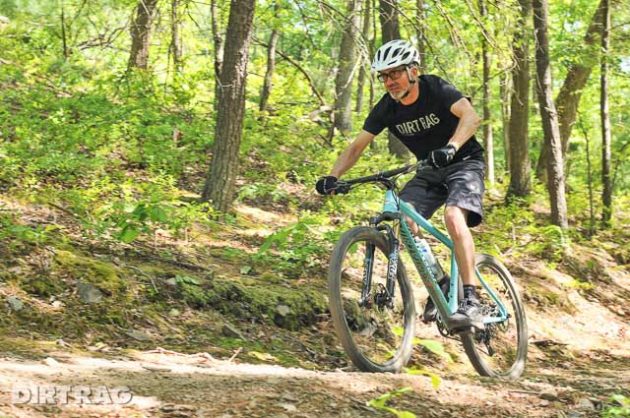 Despite a relatively short rear end, the Highball is no wheelie monster. The long front end stretches the rider out into a position that distributes rider weight relatively evenly between the front and rear wheels. Better for hammering than stunting. Great for keeping the rear wheel digging in and the front planted on steep climbs.
The Highball 27.5 is ready to roughhouse in the rocks and rubble. While 27.5 wheels can't match the sheer rollover prowess of 29ers, they still inspire confidence. Overall, I prefer the snappier, more nimble character of 27.5 wheels to the monster-truck vibe of 29ers.
With the new Highball, Santa Cruz has coaxed out the best traits of the 27.5 wheel size and created a cross-country hardtail that balances spry handling with an underlying sense of stability. That blend should appeal to racers as well as everyday riders looking for a nimble ride that's well behaved at speed and ready to rumble over rocks.
Tester age: 58 // height: 5'10" // weight: 150 lbs. // inseam: 32″
Price: $6,299 (with XX1 build kit)
Sizes: S, M, L (tested), XL
Online: santacruzbicycles.com
Wheelbase: 44.1″
Top Tube: 24.6″
Head Angle: 69°
Seat-Tube Angle: 73°
Bottom Bracket: 12.4″
Rear Center: 16.7″
Weight: 19.7 lbs. w/o pedals (Specs based on size tested)