IMBA picks Arkansas to host next World Summit
Originally posted on October 19, 2015 at 8:00 am
The International Mountain Bicycling Association (IMBA) announced that its 2016 World Summit will be held November 10-12, 2016, in Bentonville, Arkansas.
"Bentonville, specifically, and Northwest Arkansas, regionally, have shown a commitment to developing world-class mountain biking trails," said IMBA President and USA Executive Director Mike Van Abel. "I look forward to introducing mountain bikers from around the world to the wonderful opportunities these trails provide. The moderate year-round climate of this region provides access to bikers any time they see fit."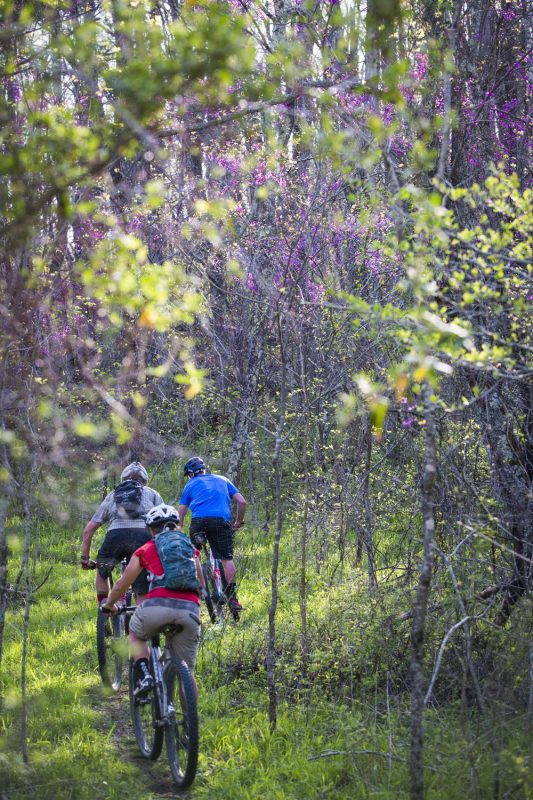 IMBA expects as many as 800 people–registrants and industry representatives–to attend the 2016 conference in part because of its middle-America location.
Arkansas Governor Asa Hutchinson called his state's mountain biking trail system "one of the world's best-kept secrets." The governor said he's looking forward to welcoming conference participants to next year's summit, and is eagerly anticipating its lasting impact on economic development.
"The conference itself is important to Northwest Arkansas, and the state as a whole," said Gov. Hutchinson. "But this is also an opportunity to solidify Arkansas as a first-choice destination for bikers for years to come."
The summit's headquarters will be at 21c Museum Hotel in Bentonville, and will consist of educational programs on a variety of subjects ranging from safety to trail maintenance. There will also be group rides and scheduled rides for participants on the region's most scenic trails including, but not limited to, Mount Kessler, Slaughter Pen, Lake Atalanta, Lake Fayetteville and Railyard Bike Park.
Kalene Griffith, president and CEO of Visit Bentonville, said that though Bentonville is acting as host for the conference, the entire region should reap the economic rewards, which Griffith conservatively estimated at $500,000.
Mike Malone, president and CEO of the Northwest Arkansas Council, said IMBA's selection of Bentonville for the 2016 World Summit serves as a validation of the decades of work throughout the region to enhance quality of life.
"Our region has built a growing and impressive trail system that is now being recognized by mountain biking enthusiasts all over the world," said Malone. "This will not only help us to attract visitors but it is also already helping attract talent to live and work in Northwest Arkansas."
IMBA also announced that it received a $275,000 grant from the Arkansas-based Walton Family Foundation to help provide professional maintenance of the state's five designated IMBA Epic Trails, accounting for almost 200 miles of mountain biking trails. Arkansas will become the only state to utilize full-time professional crews.
Those trails comprise Ouachita National Recreation Trail, which stretches between Highway 88 west of Mena to Scenic Highway 7 north of Hot Springs; Womble Trail winding through the Ouachita National Forest; Lovit Trail, which runs south of Lake Ouachita; Syllamo Trail, located outside of Mountain View; and, Upper Buffalo Trail, which is a challenging course through Ozark National Forest.
Van Abel said this is an example of Arkansas' desire to be an elite locale for mountain biking enthusiasts.
"In most cases, trail maintenance is performed by volunteers who do an outstanding job," said Van Abel. "But having a professional team whose sole focus is the maintenance and beautification of the trails is important as we work to make Arkansas a premier destination."
Arkansas' five IMBA Epic trails ties it with Colorado for the second most designations behind California, which has seven.