Inside Line: Niner's New Rocket Go For Launch
Originally posted on September 30, 2015 at 12:00 pm
PRESS RELEASE: Ten years ago, Niner Bikes was founded on the belief that larger wheels offered true and undeniable performance gains in the world of mountain biking. Though the landscape of 29ers has changed, Niner still believes bigger is better and is launching its RKT 9 RDO: "Victory Favors the Equipped."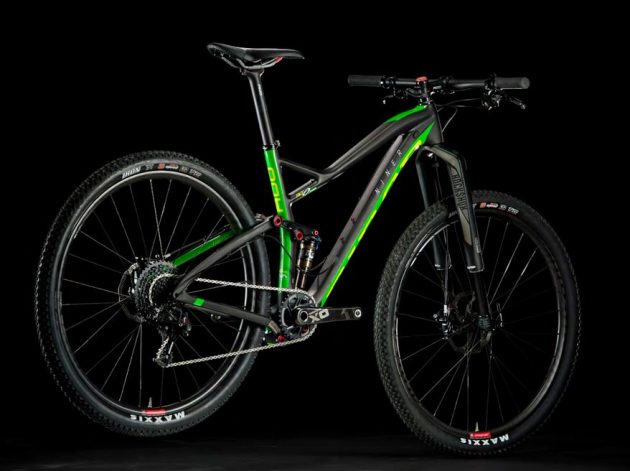 From the race track to everyday singletrack, the RKT 9 RDO is made to fly. The completely new frame design is intended to have you rethinking what is possible on a short-travel, race-ready full suspension 29er.
The frame is constructed using Niner's RDO Carbon Compaction technology, which utilizes highly resilient fibers to provide front and rear triangles that are incredibly lightweight and durable. Niner's patented CVA linkage design allows for pedal forces to operate independently of rear wheel travel, providing every ounce of the rider's hard-earned energy a clear path to the pedals.
A 73MM PF30 bottom bracket provides compatibility with the latest 1x and more conventional multiple ring drivetrain configurations and can be adapted to a threaded bottom bracket via adapters. Frame sizes medium and larger have water bottle mounts on both the underside of the down tube and within the front triangle allowing for ample hydration during longer marathon-style endurance events. The frame is protected by titanium plates that guard against the potential of a dropped chain, while clear protective decals add impact resistance to common rock-strike and high-abuse areas.
The RKT's 439mm chainstay length provides the perfect balance of acceleration, climbing traction and the ability to carve up the racetrack. The RKT is the first Niner to feature Boost 148mm x 12mm rear spacing and has clearance for up to 2.4-inch tires. This feature allows for a wider spoke interface and an overall stiffer wheel and swingarm combo, enabling you to confidently maintain line selection in the roughest conditions.
Designed around racing performance, the RKT achieves the lowest standover height of any bike in our line up. This low standover height allows the bike to be leaned further to tackle tight corners and switchbacks, and delivers a truly nimble, race-ready ride.