Inside Line: Continental releases new Baron Projekt enduro tire
Originally posted on August 26, 2015 at 18:15 pm
Continental showed this tire last year at Eurobike, but it seems it is finally ready for production. We've been a fan of Conti's Black Chili rubber compound, but have been noticing the casing and tread widths of its tire line aren't matching up as well as we'd like with modern wider internal rim widths. The new Baron Projekt should change that. This is the only image supplied by Conti: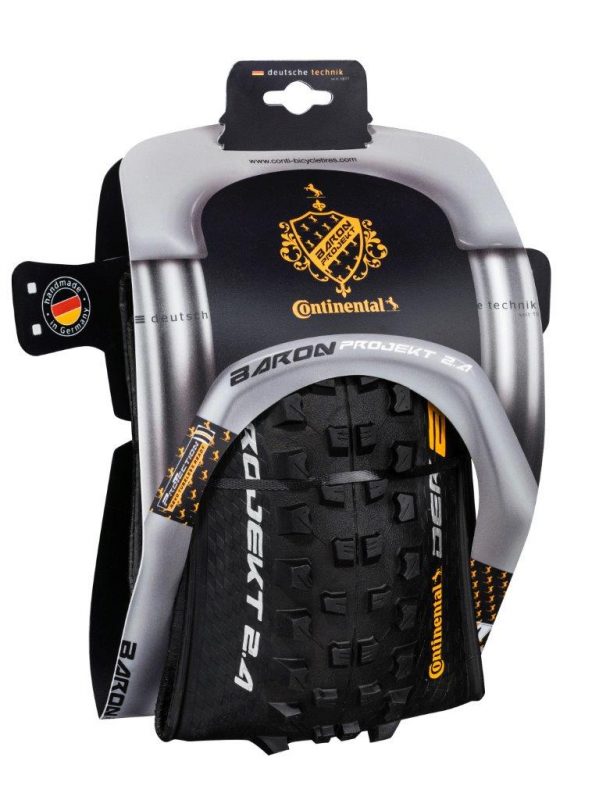 The "Baron 2.4 Projekt" is an extremely grippy, agile and universal enduro race tire with high durability and puncture resistance. During the development period, Continental's tire engineers optimized the tire tread as well as the size and the structure of the carcass. Its deep-tread, relatively exposed profile is the modification of the BlackChili compound, which has been adjusted to match the needs of enduro and freeride tracks, ensures reliable grip while not comprising the low rolling resistance, even on mud or lose ground. The 2.4″ carcass combines good rolling characteristics with inherent damping without gaining weight. An additional protection layer is incorporated around the entire carcass to reduce risks of punctures. The stable Apex inlay at the lower part of the carcass prevents it from collapsing in fast corners and helps protect the sides from slicing on sharp features in rocky or rooty sections.
I'm extremely interested in getting on a set of these as we enter the wet and slippy seasons. No prices or wheelsize info yet, we'll update after we get in touch with Continental.