Inside Line: New Leatt Helmet, Packs, Pads and Gloves for 2016
Originally posted on August 17, 2015 at 13:01 pm
Last year Leatt announced new helmets that were slated to begin shipping in 2015. As is often the case, even the best-laid plans don't always pan out as expected. A fire at Leatt's foam supplier delayed production significantly. Fortunately, these new lids will begin shipping in January of 2016.
6.0 Carbon and 5.0 Composite – $499/$399
Helmets are a logical step for the brand that arguably popularized the the neck brace. Given Leatt's focus on medical research, it comes as no surprise to the company workign to minimize rotational trauma to the brain. The MIPS system brought the concept of rotational trauma and resulting conclusions to our consciousness, so it's great to see additional offerings serving this market.
Leatt developed what they're calling "360º Turbine Technology" to reduce impacts and rotational forces. These little discs not only absorb impact, but they also allow the helmet's shell to move independently of the head. Additionally, Leatt's in-molded shell and dual-density foam facilitate a 10 percent smaller helmet, which reduces rotational energy transferred to the head and brain by 20 percent. Turbine technology is said to reduce impact at the concussive level up to 30 percent and reduce rotational acceleration of the head and brain by up to 40 percent. Six helmet sizes available from XS to XXL.
3.0 Cargo Pack – $179
Leatt has offered packs for a couple of years now, but those packs were a partnership with another company. For 2016, Leatt brought pack design and production management in-house. Packs will begin shipping in November 2015.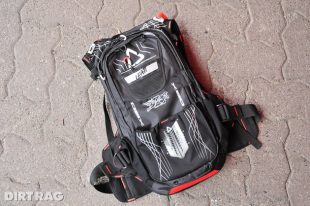 The 3.0 Cargo offers three liters of water capacity in Leatt's CleanTech bladder and ten liters of storage. Leatt's 3DF CE Level 2 back protector should provide quite a bit of protection while the company's vest-like chest harness secures the pack.
2.0 Enduro Lite WP – $139
The Enduro Lite offers two liters of water capacity and five liters of storage inside its waterproof fabric and water resistant zippers. A CE Level 1 back protector provides confidence, and a weatherproof touch screen pocket protects your devices.
3DF Knee and Elbow Guards 5.0 – $75/$59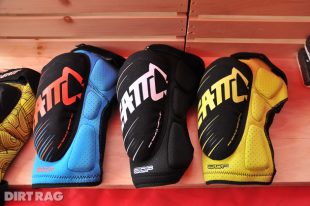 Welcome to Leatt's newest generation of 3DF viscoelastic knee and elbow pads. Not only is the new material 25% slimmer, it's also considerably softer and more supple. However, under impact, it's every bit as protective as the previous version. Pads will begin shipping in October.
3.0 X-Flow and 4.0 Lite – $50/$40
Leatt's gloves are totally new for 2016. The 3.0 X-Flow gloves (left in the above photo) offer Armourgel protection for the first knuckle, Clarino palm and mesh backing.
The 4.0 Lite glove (right in the above photo) includes Armourgel protection for the first knuckle and the second and third knuckle on the ring and index finger. A Nano grip palm offers palm protection and smart phone compatibility. Expect gloves to begin shipping in October.