First Ride: Rocky Mountain Maiden World Cup
Originally posted on August 16, 2015 at 8:00 am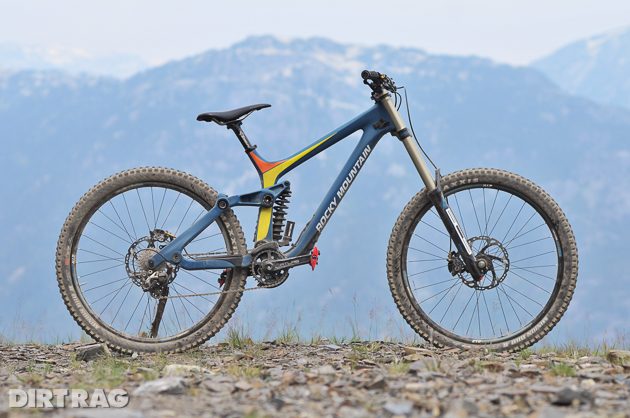 A little over a week ago Rocky Mountain announced its new Maiden downhill bike, and we brought you up to speed on the details here. As we hoped, we were able to ride a few laps aboard an early-production Maiden World Cup at Whistler.
After a period of downhill bikes trending steadily slacker, the market seems to have leveled out between 63 and 64 degrees, which is right where the Maiden plays. Even in the slackest 63-degree setting the Maiden struck a comfortable balance of maneuverability and stability, particularly combined with the very-short 16.7-inch chainstays.
This was my first ride aboard BOS suspension and I'm thoroughly impressed with the Idylle Air model spec'd on the World Cup. This air-sprung fork is very supple, and soaked up Whistler's extensive braking bumps and bomb holes incredibly well. It also provided a well-controlled and comfortable ramp up to end of stroke.
Out back, the BOS Stoy RaRe was very well matched to the fork, soaking up small chatter and big hits without breaking a sweat.
In designing the Maiden, Rocky Mountain invested a lot of time and energy in minimizing the impact of braking force on the rear suspension. The company's patented Autonomous Braking design "[balances] anit-rise, caliper rotation, and instantaneous inertial brake transfer values" to keep the rear suspension active when braking. That's a bunch of tech-speak, but in a nutshell, most all of today's downhill bikes squat under braking, which firms up the suspension a bit due to being deeper in the travel. Combine that squat with caliper rotation and you can end up with grip-slip under braking. On the Maiden, I couldn't believe how composed and neutral the bike felt under braking. It was astonishingly smooth under even the worst braking bumps.
Although all of the complete bikes are spec'd with 27.5-inch wheels, the Maiden offers some interesting options to make it 26-inch compatible. By installing a headset spacer and utilizing the lower rear axle position, the geometry is optimized for 26-inch wheels. With 26-inch wheels and fork, the trail number is nearly identical to that of the 27.5-inch setup.
The Maiden's Ride-4 chip is similar in concepts to Rocky's Ride-9 chip, but simplified substantially. The chip's four positions subtly adjust geometry, but are said to have a negligible impact on suspension performance. We didn't have time to play with the settings, but look forward to doing so in a future long-term review.
In all, I'm very impressed with the Maiden. It was easy to ride and very intuitive from the moment we rolled in the park. The suspension's performance on small bumps and braking bumps was nothing short of astounding, while the big-hit performance far more capable and I am able to push it. The Maiden seems like an incredibly well-designed and executed bike. I'm sure looking forward to getting my hands on a long-term test sled. Look for production bikes to begin shipping in October.
Photos
[wonderplugin_gallery id="40″]