Shimano releases new gravity, touring and winter shoes
Originally posted on July 14, 2015 at 13:12 pm
The new Shimano gravity series has been designed with input from Men's Downhill World Champion Gee Atherton, 2013 Downhill World Champion Rachel Atherton and multiple British 4X National Champion Dan Atherton. The Atherton's influence is clear to see in the AM9, which the whole GT Atherton team has been testing since the beginning of the season, with protection and grip to suit harsh riding conditions and the most aggressive riding styles.
AM9
The newly designed pedal channel in the outsole of the AM9 makes it easier to re-engage to the pedal while unclipped. This feature also brings about a weight-saving of 217g per pair (size 40), a 23% reduction over the AM45. It features a comfortable EVA foam construction midsole and Volume Tour Last sizing outsole for extra volume at the ball of the foot, providing additional comfort and support on and off the bike. A Velcro strap on the upper of all new AM shoes keeps the foot securely in place with even tension across the metatarsal bones.
---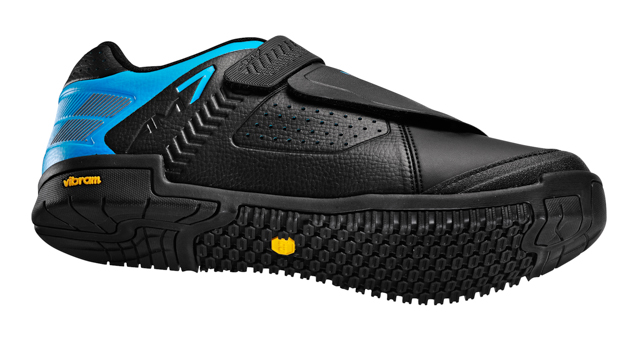 AM7
The AM7 is identical to the AM9 but with a flat Virbram outsole for flat pedals. Armoured lace shields on the AM9 and AM7 provide additional metatarsal protection from the elements and keep laces confined, away from chain rings and cranks.
---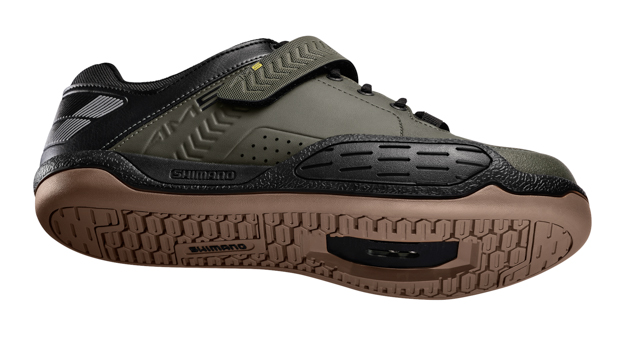 AM5
The AM5 on the other hand, foregoes the lace shield to offer a street-inspired style, equally at home in skate parks, trail parks and everywhere in between. With a lightweight and non-compressed flat insole, the AM5 offers an even and comfortable foot cushion for a platform that's ideal for both walking and riding.
---
XM9
With its high-ankle protection and walking support, the XM9 takes on the appearance of a hiking boot rather than a traditional cycling shoe. Strategic ankle padding prevents debris from entering the shoe and offers more ankle support than a regular cycling shoe without interfering with pedaling movement. Further protection from the elements comes in the form of a durable rubber toe cap, natural nubuck leather and a breathable, waterproof Gore-Tex liner for optimal climate comfort.Traditional laces provide the closure system with metal hook eyelets for lacing, combined with a Mini Power Strap, TPU heel, and cupped and grooved insole to secure your foot in the shoe.
---
XM7
Designed for riders who are likely to spend as much time off the bike as on it, the XM7 delivers the best of both worlds. Natural Nubuck leather and a reinforced rubber toe box provide protection and durability, whilst a Gore-Tex liner allows your feet to breathe. Much like the XM9, a Vibram® outsole provides grip and a flexible half-length shank plate and shock absorbing EVA delivers outdoor walkability in all conditions. The lace closure system with its Velcro cross-foot top loop-strap provides a snug fit and allows laces to be tucked away.
Both the XM9 and XM7 come with a screw-in plastic cap for the recessed SPD cleat. This multi-functional cap is designed for use with flat pedals but is designed to fit an SPD pedal for those who want to get used to the cleat entry and exit action before committing. The cap simply unscrews when you're ready to add Shimano's SPD cleats.
---
MW7
A new addition in Shimano's off-road shoe line-up, these insulated and waterproof boots are fleece-lined for protection from rain and cold. They have a waterproof Gore-Tex insulated comfort liner and heat-retaining fleece lined insole as well as Shimano's Torbal torsional midsole giving you a stiff instep section and an independently flexible front and back section. This gives the foot a natural flow for descents and also provides you with efficient power transfer to the areas of the foot that need it most. Meanwhile high-traction rubber studs on the outer edges of the sole ensure excellent traction on a wide variety of terrains and conditions.
For mountain biking, the MW7´s molded toe cap and ankle support, cupped high sole and instep, and tough, padded synthetic leather surround protects the foot from on-trail basketball-shaped rocks. Lacing is taken care of with speed-lacing pull-cord and Velcro armored lace shield to ensure a quick and secure fit.
---
Pricing and availability
MW7 – September
XM series, AM9 and AM5 – October
AM7 – November
Pricing has not yet been determined.