Inside Line: Our first look at the New Pivot Mach 429 Trail
Originally posted on June 27, 2015 at 14:31 pm
The latest Pivot trail and all-mountain bikes—the Mach 4 and Mach 6—have been a big success, but most recently the 29ers have been restricted to the cross-country end of its lineup. Now the new Mach 429 Trail lets 29er fans—ourselves included—enjoy the excellent dw-link suspension on more rowdy trails.
Pivot started the design with a ride experience in mind, not a travel number, so while it may seem odd that the bike ended up with 116mm of travel, the new linkage design features influences from the Mach 6 and Phoenix downhill bike for a much larger feel. The suspension moves through a custom tuned Fox Float DPS shock with two sets of valves and pistons similar to what is found in the dual chamber Fox Float X shock.
The full carbon frame is designed for a 120mm or 130mm fork and while it's sold as a 29er, the Boost spacing front and rear allow it to fit a 27.5×3.0 wheel and tire too.
While most of Pivot's mountain bikes have internal cable routing, the 429 Trail routes its cables on the bottom of the down tube for easy maintenance—though the dropper post has stealth routing. Those cables run to a direct mount or standard rear derailleur and a Shimano side-swing front derailleur.
If built with a single chainring, the mount is removable for a cleaner look. The external routing also makes the frame a little less expensive than the Mach 4 or Mach 6. Like all Pivot bikes, the bottom bracket shell is a Shimano PF92 that allows the frame and bottom bracket junction to be as large and stiff as possible.
The geometry is in line with the current trend with a longer front center and slacker head tube angle. At 67.5 degrees it is on par with the new breed of 29er trail bikes like the Kona Process 111, Evil The Following, Specialized Camber EVO and Transition Smuggler.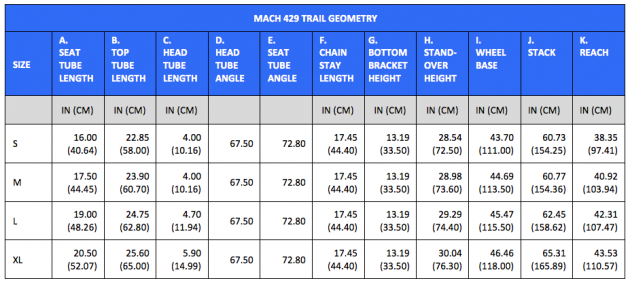 The Mach 429 Trail frame and shock will be available in two colors and sell for $2,499 when they go on sale at the end of July and complete bikes will be available in eight different build kits from $3,999.