Trail Tested: Bontrager Rhythm Trail Shoes
Originally posted on June 4, 2015 at 13:28 pm
By William Kirk
These Bontrager Rhythm shoes could easily hide on the shelf at your LBS under the guise of a standard light-duty cross country shoe. However, if you dig deeper you'll find features with an obvious gravity influence. About the intended usage of the$160 Rhythm shoes, Bontrager says "A little bit of all-purpose. Trail. Tech Trail. Enduro." To me, it sounds like Bontrager managed created another mountain bike shoe, right?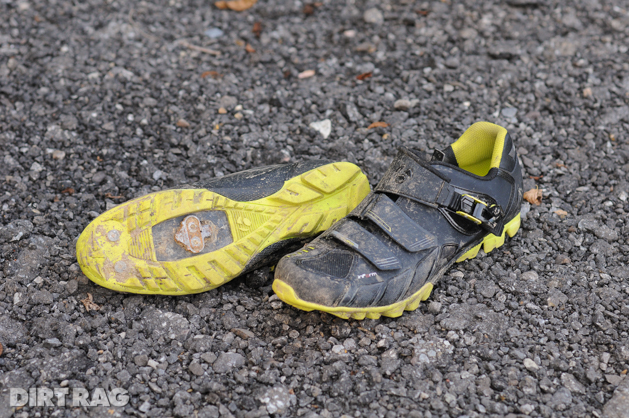 The side panels and toe box of the Rhythms are armored with plastic to protect your feet from trail debris and impacts. The ratcheting buckle on the top of the shoe offers micro adjustments to fine tune the fit as the day gets long. To keep you upright during hike a bike sections, Bontrager constructed the Rhythm with a Tachyon rubber outsole for better grip. While the Rhythms have features to protect your feet, they also offer generous venting on the top of the shoe to keep your feet cool in the warm weather.
When I first put the Rhythm's on my feet, I was struck by how snug they fit. My feet tend to run slightly wider than average, so I was delighted to find the adjustment screw that fine tunes where the ratchet engages the buckle system, which made it simple to get the fit where I needed it.
On the trail the Rhythm's offered a stiff platform for pedaling efficiency and provided the feel of an XC race oriented shoe. Off the bike, the soles were excellent at providing traction on all kinds of wet and dry surfaces. The micro adjust ratchet strap was used regularly on longer rides to adjust the fit for swelling feet or after creek crossing and wet socks. I tested the Rhythm's on both standard and trail-style clipless pedals, and both pedal configurations engaged and disengaged without issue.
The Bontrager's were used as my primary shoes for an entire summer of riding. The first pair of shoes I received had a pre-production ratchet strap which lost its bite within a month or so. Bontrager updated the shoe to include the new strap, and I am happy to report it works fantastically. The shoes have worn very well, I don't see any reason you can't get more than a few season out of the Rhythm's.
As a rider who often switches between clips and flats, I long for the efficiency of reasonable pedaling platform but still demand trail feel. This is where the Bontragers may have fall short. The Rhythms have a very XC feel to them, but it seems this shoe is aimed at a wider audience that would be happy to sacrifice some stiffness for more trail feel and more comfort off the bike. If you are looking for an efficient pedaling shoe that offers more protection and versatility than your carbon soled XC race slipper, you want to check these out.