2015 Sea Otter tech roundup – Part 4
Originally posted on April 27, 2015 at 20:23 pm
Ryde Rims
Ryde Rims showed up to our booth one morning with a new rim. Ryde was until recently known as Rigida, and is now going after a higher end part of the market.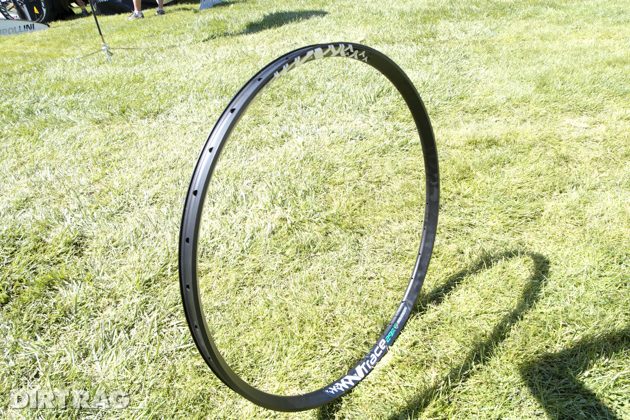 This is the Trace rim ($135), which will come in 22, 25 and 29 mm internal widths in both standard and asymmetric. A second series of rims, Edge ($85), will have the same width and asymmetry, but are a bit heavier. All rims will come in 26, 27.5 and 29, in any color as long as it is black.
Tubeless ready with the addition of rim tape and a valve, these rims look to challenge NoTube's dominance of the market. the website isn't live yet, but bookmark www.ryde-usa.com for more info later.
---
Rever MCX1 Disc Brakes

Rever brakes are aimed squarely at road and cyclocross bikes, not the mountain bike market. With the Avid BB7 growing long in the tooth, and most of the big money seemingly going into developing hydro discs for road, Rever should be able to serve the part of the market that is after a premium cable disc brake.
How premium? $150 a wheel. That  includes a 140 or 160 mm rotor, ISO and direct mount adaptors, stainless slick cable (uncoated, thankfully), two meters of compressionless brake housing, and all related hardware.
The caliper is a dual piston system, with separate adjustments for each pad, plus a cable adjuster. Pads can be replaced easily from the rear, and can use an Shimano G-series type pad, so any option under the sun is out there for metallic, organic, or semi-metallic.
Power is claimed to be reduced from a BB7, something that may be welcome on bikes with skinny tires and reduced traction. riderever.com
---
Marin 2016 steel mountain and adventure road bikes
Marin is celebrating 30 years in 2015, and half its booth was set aside for vintage bikes. The other half of the booth had these two new models built to celebrate three decades of building bikes.
The Pine Mountain name isn't new, and although this bike seems a little retro, it is entirely up to date. A steel frame and fork with sport a single chainring Shimano SLX drivetrain with a wide range 10 speed SunRace cassette. The Vee tires shown will be replaced by the new 27×2.9 Schwalbe Nobby Nics. This is a sharp looking bike for $1,100.
Coming in at the same $1,100 level, this is the new Four Corners touring bike. Room for at least 40 mm tires, a quality steel frame and fork, triple bottle mounts, and disc brakes should make it ready for all kinds of adventures. The bags and racks are not included, nor is the big bottle of beer.
---
Jamis Dragon Slayer
There is still much love for the long-running Jamis Dragon. Not many steel hardtails, if any, have remained continuously in production. It currently has four models, in 27.5 and 29, and soon to be a fifth model in 27plus.
With a Deore 2×10 drivetrain, Boost hubs front and rear, Vittoria Bombolini 27×3 tires and Fox Float 32 fork, all this thing needs is a dropper to be ready for some serious business. And you heard it right, Shimano will be supporting the Boost standard from now on, even though it began life as a SRAM/Trek project.
Stoked to see the sliders, for single speed conversion, either on purpose or after roaching a derailleur out in the backcountry. The stays are right around 17 inches, a plus in my plus-size book.
This is the first peek we've seen of the new Vittoria plus size tire in 27.5. Glad to see some well supported side knobs.
The Dragon Slayer is ready to go long, with triple bottle mounts and rear rack braze-ons. Glad to see some versatility coming back to hardtails.
---
Manitou, Sun and Answer
The Hayes Bicycle Group has been through some ups and downs the last few years, but some new products and OE spec seems to be righting this ship.
This is a cut-away of the new Magnum plus-size fork. We've been riding one on a Trek Stache and so far have been hugely impressed. Lots of tech from both the Dorado DH forks and Mattoc trail fork, but in a 34mm stanchioned packaged for either 27plus or 29plus. You'll be looking at $900 for the Pro model, less for the Comp when it becomes available. Only two travels, 100 and 120 mm, 15×110 hub spacing and room for tires up to 3.4 inches.
The Mulefut 50 is the skinnier brother to the well received 80mm fat bike rim. It's tubeless ready (with rim tape to cover up those huge rim cut-outs) and Sun claims these are the lightest aluminum 50mm rims you can buy. These will set you back $140 a piece.
Everyone seems to be talking short stem talk right now, and Answer adds to the chat with a 30 mm AME model. You'll be able to get it in red, black or white in a 31.8 bar clamp. If 30 mm is too short, you can get one in 40, 50, 60, 70 or 80 mm. Any size or color for $80.
---
Keep reading
Miss our earlier coverage? Click here to read all our tech coverage from Sea Otter 2015.