Revived Fat Chance Yo Eddy goes into production
Originally posted on April 25, 2015 at 5:11 am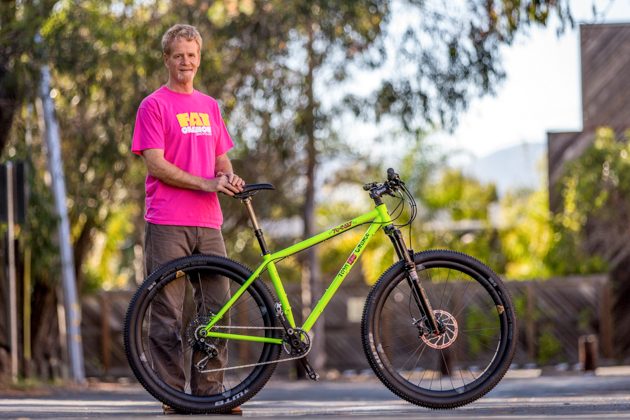 Photos by Nick Kova
After we learned of the return of Fat Chance Cycles last fall, things got rolling with a crowdfunding campaign to raise seed money to get the revived business off the ground and build the first batch of new bikes. Now that the campaign has been successfully funded, Fat Chance is taking orders for a second run of 100 production frames. Made in American from True Temper steel tubing, the frames are available in both 29er and 27.5 versions.
Some changes have been made to the frame designs, including the addition of a curved seat tube on the 29er version, a straight 44 mm head tube, post mount rear caliper mounts, a direct mount front derailleur mount and full-length external cable routing. The 29er version is built around a 120 mm fork while the 27.5 goes for a 130 mm. The geometry is more trail oriented than race, but not super slack.
The production frames will feature some pretty "traditional" dimensions, like a 73 mm threaded bottom bracket shell and 142×12 rear thru-axle. They can be ordered in one of four colors: "Arrest Me" red, "Grello" Yellow, Team Purple and naturally, black. A $699 deposit can secure your spot and the final price is $1,699, with delivery in August.
Correction
The classic segmented steel fork found on the first batch of bikes will not be available separately. It may return, Fat Chance says, but not in the near future.