Inside Line: First look at Advocate Cycles 27plus hardtail
Originally posted on April 18, 2015 at 0:45 am
Here at Dirt Rag we're huge fans of classic steel hardtails, and today we got an introduction to a new brand with a unique business model that is giving back to the associations that support cycling. Advocate Cycles is a new venture from industry veteran Tim Krueger and its first product is the Hayduke, a 27plus steel hardtail with a trail bike attitude and impressive versatility.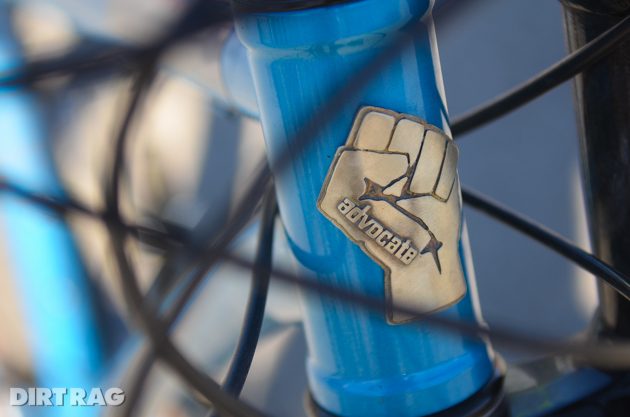 While the company will of course need to make money to operate, it vows to turn 100 percent of its profits back into cycling advocacy organizations like IMBA and the League of American Bicyclists. While it is still federally recognized as a for-profit company, it is regarded in its home state of Minnesota as a new status known as a Specific Benefit Corporation. These types of organizations are required to uphold "a material positive impact on society and the environment, taken as a whole, from the business and operations of the benefit corporation."
Built from Reynolds 725 steel tubing, it has a 44 mm head tube and BB92 botton bracket shell, and the rear end has rocker dropouts of Krueger's own design that can be fitted with a 142×12 thru axle or the new 148×12 Boost Axle. (Read more about what makes Boost parts different here.) What's nice is that the same 174 mm SRAM Maxle is used with all of the dropouts. Naturally it can be used a singlespeed as well.
The Boost hub was created mostly to work with the many 27.5×3 tires that will soon be available, but the frame will also fit a standard 29-inch wheelset.
One nice touch is that you can build up a Hayduke frame with all the standard parts currently used on 29ers, and if you want to switch to 27plus down the road you can swap out the dropouts for the Boost version and hit the trail. It will even work with a double crankset and the 3-inch tires if you use the Boost crankset.
Other key details include a 68.5 degree head tube angle, 73 degree seat tube angle and 60 mm bottom bracket drop. It is designed around a 120 mm fork with a 51 mm offset and will be available in four sizes. The 31.6 mm seat tube has internal dropper post routing and a Thomson seat post clamp is included.
The frame will retail for $750 and should be available later this summer. Krueger said the company has three more bike models it plans to roll out in the next few months as well. It will be interesting to see not only if the bikes will perform well, but if the company's bold business plan will too.