First look at the new Rocky Mountain Sherpa
Originally posted on April 17, 2015 at 0:09 am
We first got a look at the Sherpa concept last spring at the Sea Otter Classic, and now one year later Rocky Mountain is ready to introduce the bike to the world.
Built around the 27plus tires—in this case WTB's 2.8 Trailblazers—the Sherpa is loosely based on the Element 29er and contains much of the technology found on other Rocky Mountain bikes, including the SmoothLink suspension design. The inspiration for the bike actually came from WTB's tires, Rocky Mountain said, and they found it fit perfectly with the kind of backcountry exploration that is becoming more popular.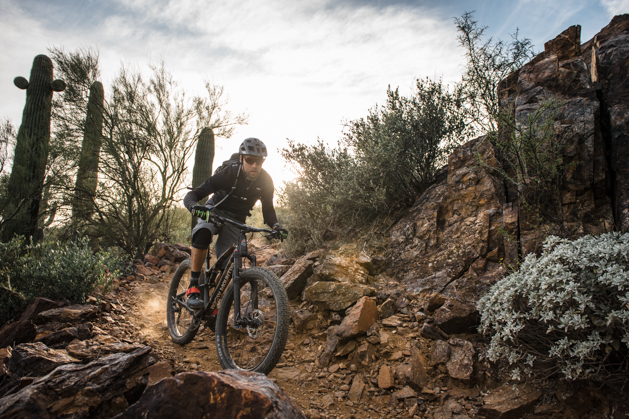 With 95 mm of travel in the rear through a new Manitou shock, the carbon front triangle is paired with aluminum rear swingarm with a standard 142×12 rear hub, not the new Boost hub. To fit the chain around the tire Rocky Mountain partnered with RaceFace to make a Turbine crankset with an 83 mm spindle to widen the Q factor a bit. Up front the suspension duty is handled by a Mantiou Magnum 120 mm fork (also new) which is Boost sized with a 110mm hub.
Rocky Mountain readily admits that the concept isn't for everyone, and won't be replacing any other products in its lineup, but is an option for mountain bikers who love exploring as much as shredding.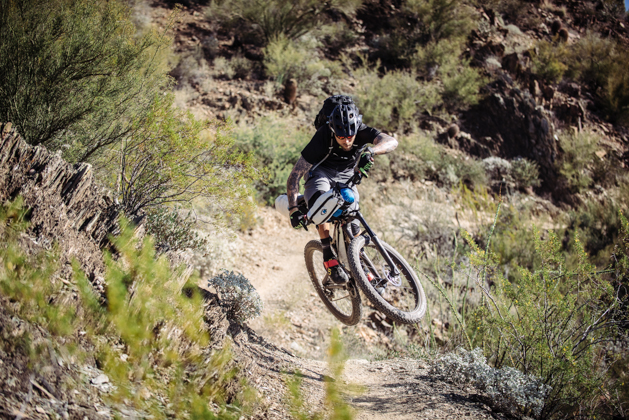 The Sherpa will be available in four sizes for $4,500.
Video
From Rocky Mountain: Early in Spring 2015 we headed down to Arizona for a few days of desert overland bikepacking. The roll-call included Olympian Andreas Hestler, freeriders Wade Simmons and Geoff Gulevich, renowned filmmaker Brian Vernor, and Rocky Mountain product guy Alex Cogger. The first goal was to escape the Pacific Northwest winter, and the second goal was to test our new Sherpa bike.
The Black Canyon Trail runs roughly 80 miles North to South. Beginning on a high plateau, it winds through rolling grasslands before descending into a landscape of Saguaros, Chollas, and other Sonoran Desert flora. We were treated to chilly nights and frosty desert mornings, but once that sun rose, wool layers were peeled and we had to contend with the steady, relentless heat of the day. The landscape we encountered was fully alien to us, full of incredibly beautiful things just waiting to stab you the moment you stray from the trail. Between the bullet-holes in everything and the buck-naked rider we ran into on day three, it was clear this trip was about getting weird in the desert.