Inside Line: SRAM releases new four-piston Guide Ultimate brakes
Originally posted on March 31, 2015 at 10:00 am
SRAM went back to the drawing board when it designed the Guide brake series introduced last year. We tested and reviewed the RSC model and found they are vastly improved over previous SRAM/Avid designs.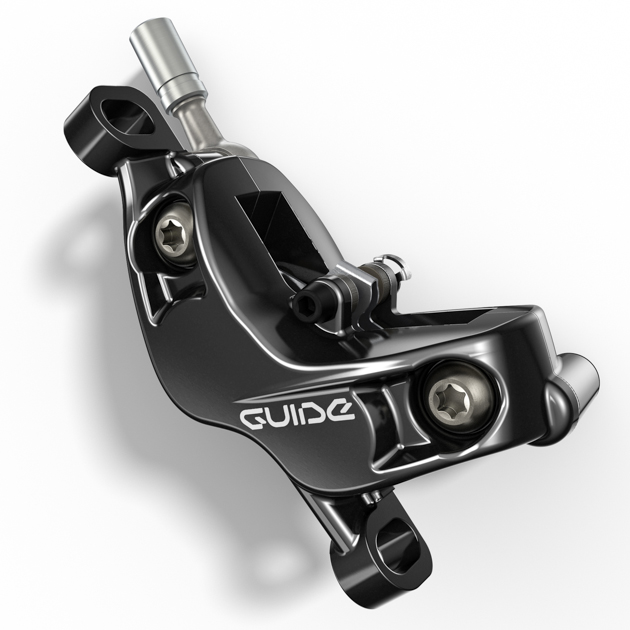 The new Guide Ultimate model takes the design a step further with a slightly revised caliper and carbon fiber lever arms. The S4 caliper gets changes to the seals and piston coatings that help with rollback and consistency that SRAM says will help with proper alignment to minimize drag. Each caliper holds a pair of 14 mm pistons and a pair of 16 mm pistons for both power and modulation. Heat management is aided by aluminum heat shields that break the thermal connection between the pad and lever body, insulators integrated into the pistons, and a large pad opening to allow more air flow.
The calipers also features the new Bleeding Edge bleed port that simplifies the bleed process. A dedicated adapter plugs into the bleed port and seals the system to minimize air contamination and fluid loss.
The lever body still features the adjustable reach and contact point of the Guide RSC model, but adds a carbon fiber lever and titanium hardware.
The Guide Ultimate brakes will retail for $288 per wheel, in either black or Arctic Grey when they go on sale in May.
Finally, the pair with the new Ultimate line is a new set of Centerline X rotors, a two-piece design that sheds weight over the one-piece steel models. Available in 140 mm, 160 mm and 180 mm, the rotors have an alloy center and steel brake track. They will be available in July in both six-bolt and Center Lock versions for $72 each (140 mm and 160 mm) or $78 (180 mm).