Blast From the Past: The Boyfriend
Originally posted on April 2, 2015 at 7:28 am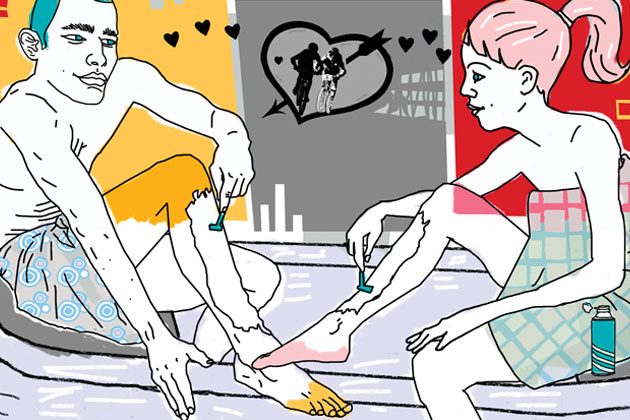 Editor's note: This "Last Chance for Gas" story by Amy Szczepanik first appeared in Dirt Rag Issue #116, published in August 2005. Art by Olivia Edith.
---
My athletic life is divided into two eras: before him and after him. Before him, I was an all-around athlete participating in mainly team sports: basketball, softball and volleyball. After him, it was an all out obsession with anything adventuresome: rock climbing, hiking, mountain biking.
Before him I knew nothing of tubes, Shimano components, titanium frames, the famed yellow jersey or hairless male legs. After him, I was sucked into the cult of daily coverage of the Tour, argyle cycling socks, grease stains on my legs and 20-plus mile rides. He was a collegiate mountain bike champ and I was the girlfriend. What's it like to date a cyclist? It changes your life.
I'll never forget the day he walked into my volleyball game wearing cycling shoes and bright yellow spandex from head to toe. His helmet was in his hand and he had a goofy grin on his face. I slunk into the corner, trying to cope with my embarrassment. I couldn't escape it. "Look at that guy!" my teammates nastily whispered. "That's my boyfriend," I hesitantly admitted. He had ridden 40 miles to watch my game.
He invited me to a college mountain bike race, a grueling 35-mile, off-road track full of drops and berms and rocks. People exited the woods hauling their bikes behind them—a busted tube, a bent frame or a jacked-up chain slowing down synchronized rhythms of the race. There was blood gushing from thorn-scraped skin. There were wipeouts, the kind of mid-air spills off a dirt ramp where the body contorts and the face twists and writhes into a science-fiction-esque agony. But the guys wiped the dust and sweat out of their eyes, picked themselves up and pushed on toward the goal. They were animals, driven by the innate fire and determination to cross that finish line. It was more beautiful than the full moon that shone in the sky during the cyclist's and my first kiss.
Then there was our first mountain ride together. We went on some easy off-road trails. I learned how to hop over logs, to pedal fast and furiously through the leafy terrain. I learned how to effectively shoot "snot rockets," to praise God for the invention of the Camelbak, and to defy my fears. We carried our bikes over a narrow steel beam, 20 feet in the air. I had never done anything so risky.
And there was our first road ride together—a 30-mile trek from his house to mine. It was hell. I didn't think I would make it. But somehow I managed to make my way up that huge, mile-long hill, pedaling frantically in my lowest gear. I felt dowdy in my basketball shorts and XL t-shirt, juxtaposed to his sleek, shining spandex, but I had accomplished the same thing. We made it up that hill and through that ride together. It was the greatest sense of achievement I had known.
As time passed, I got used to the spandex, the bibs, the jerseys. I got used to the taste of GU and Gatorade. I got used to the constant bicycle lingo, the assortment of odd tools and the never-ending trips to the bike shop to scope out that Gary Fisher Sugar 3+ in all its shining glory. Before long, I wasn't just used to it. It fueled me. His passion for the bike had passed the stage of something I put up with. It was no longer the thing I tagged along with to be the "good, cool girlfriend." It had passed the step of a shared interest. It was something all mine. He had inspired in me a yearning to ride and press farther than my calves and quads thought possible. It was no longer about him. It was about the bike, the ride, the thrill. It was a high, an addiction, a great accomplishment. It was about personal success.
What's it like to date a cyclist? It's an unexpected trip, an odd adjustment to a far-out culture. It's getting used to your boyfriend having better shaved legs than you. But it inspires you to live your life to the fullest, to pursue your most adventuresome dreams.
What's it like to be a cyclist? It's like dating one, but better. Because it's not about him and his bike. It's about you and yours. It's about getting to the innermost of your being and realizing that the passion for the ride, the sheer enjoyment, is yours alone to enjoy.
Keep reading
We've published a lot of stuff in 25 years of Dirt Rag. Find all our Blast From the Past stories here.