Inside Line: WTB adds more 27.5+ tires and rims, plus new lightweight saddle
Originally posted on March 17, 2015 at 16:59 pm
WTB was one of the first out of the gate with products in the new 27.5+ category, specifically rims and tires for a 27.5×3.0 (or so) wheel and tire combo.
The new Bridger 3.0 27.5+ is aimed squarely at the aggressive trail and enduro market, and should pair up nicely with the Fox 34 released last week. But what bike will it fit on? We expect there to be some options soon.
The tread pattern looks like a mix of some old and new WTB designs, with big aggressive blocks across the entire tread. There will be at least two versions of this tire, TCS Light and TCS Tough. The $68 Light version rolls quickly and weighs in at a claimed 1,235 grams, the $77 Tough tire is a high traction compound and weighs 1,510 grams. With some of the current 27.5+ tires weighing in at under 1,000 grams, it is good to see WTB stepping up with a Plus size tire that should be able to stand up to aggressive riding on difficult terrain.
The bad news about these tires? The are expect to show up in dealers in August, 2015. Bummer.
Also new are three new rims; the carbon fiber Ci24, the Asym i29 and Asym i35. Just like WTB's other rims, these are named after their internal (inside the rim, bead to bead) measurement, a simple solution that makes a lot of sense.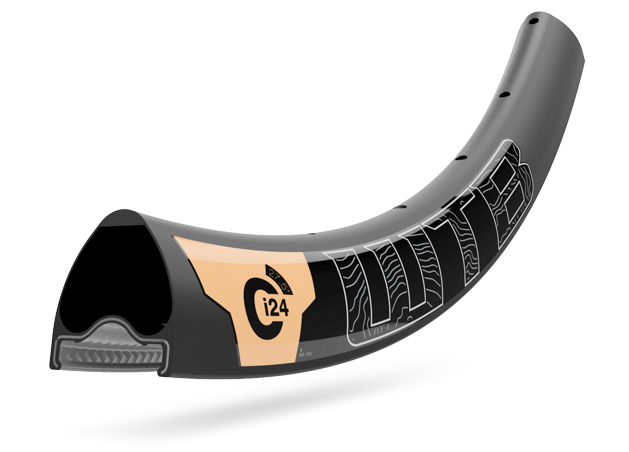 THe Ci24 has been under development for years, going through five iterations before coming to market. Standout features are WTB's TCS tubeless profile and 4D spoke hole drilling. TCS (Tubeless Compatible System) is WTB's own version of the ETRTO (The European Tyre and Rim Technical Organisation) tubeless system. It combines specific shapes for the bead hook, the tire bead and rim profile to allow inflation with a floor pump, easy installation and removal, and extremely secure tire to rim interface. The 4d drilling is a combination of angled drilling and internal chamfers at the spoke holes to keep the spokes aligned, preventing binding. This in turn creates a wheel with more even tension and less trouble down the road with broken nipples and spokes.
Available in 29 and 27.5 sizes, the Ci24 should be ready to go in June. Weights are targeted at 414 grams for 27.5 and 420 grams for 29, both sizes are $550, per rim.
The two new aluminum rims, the Asym i35 and Asym i29, will compliment the current Scraper i45 rim. These new rims will allow consumers (or product managers) to fine tune Plus size tire width to fit within the constraints of current frame designs—that is, fit a 25.7+ wheel and tire in an existing or modified 29er frame.
The Asym i29 and i35 will probably see use on plenty of non-Plus size bikes as well, as the wider rims become more en vogue for standard tire sizes as well. The asymmetric rim profile evens out the unequal tension caused by uneven hub flange spacing. More even spoke tension means a stronger wheel can be built with a lighter rim. There are slimmer versions of this rim already showing up on 2015 bikes from companies such as Santa Cruz.
These rims use the same TCS and 4d drilling technologies as the Ci24 rims, but are made from WTB's strongest aluminum alloy, WT69, and are marketed for all mountain and enduro use. Both rims are available in 29 or 27.5, at $90 and $85, respectively.
Finally, the new SL8 saddle might be just the ticket for riders looking for the lightest of the lightweight saddles, but still desire all day comfort. With a shape reminiscent of both the widely-loved Volt and Silverado saddles, the SL8 weighs as little as 146 grams for the $250 carbon model. Less expensive version start at $120. Look for the SL8 in dealers starting in June.