Friend or Flow: Are trails being too "dumbed down?"
Originally posted on March 5, 2015 at 18:22 pm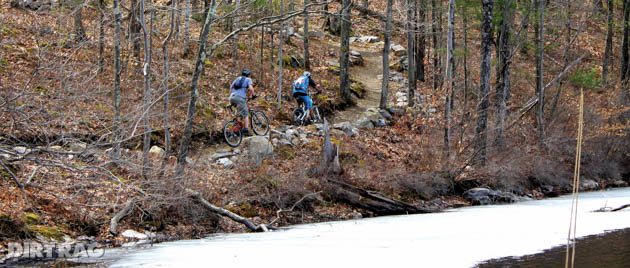 Words by Sarah Galbraith. Photos by Tristan Von Duntz.
The notion of flow exists in all kinds of sports," says Mark Eller, Mountain bikers have, of late, seen the development of communications director with the International Mountain Bicycling Association (IMBA). Eller has worked in skiing, snowboarding, surfing, and climbing, and now mountain biking. He points out that even tennis players are seeking to flow: "It's not unique to mountain biking."
Sports-theory academics have put some thought to the concept of flow, producing a long-winded and wonky definition and some papers on the subject. Mihaly Csikszentmihalyi, who has the title "architect of flow," is also a distinguished professor of psychology and management at Claremont Graduate University, and he has coined a flow theory. He says flow is a rare and dynamic state characterized by dimensions like the merging of action and awareness, concentration on a task, the loss of self- consciousness, an altered sense of time, and a self-rewarding experience. In other words, when you're flowing, you're in the zone.
While flow is not specific to mountain biking, what is unique is that we're constructing the flow experience, which Eller describes as a universal mental state. "Flow exists in somebody's mind,"he says. "Building a trail that will make this happen is different for different riders." A newbie mountain biker may find flow on smooth, wide trails, for example; intermediate riders may find it on doubles and berms; and someone with a lot of experience might find the flow in a rock garden or some other gnarly section. Regardless of where it's found, today's mountain bike trails are built to encourage flow.
Mountain bikers have, of late, seen the development ofthe flow trail, which is built by hand or machine specifically to create a flowing ride experience. Defined on the IMBA website, flow trails "typically contain features like banked turns, rolling terrain, various types of jumps, and consistent and predictable surfaces. Conspicuously absent are abrupt corners or unforeseen obstacles."
The construction of flow was not always part of mountain biking, and therein rides the rub. Mountain bikers used to be a marginalized—often illegal—user of trails that were never built with mountain biking in mind. We rode fire roads, fall-line trails, and stolen hiking trails, or raked a path through the woods and called it good.
The new development of flow trails has left mountain bikers all over the world arguing about the merits of different trail-construction styles, and my home state of Vermont is no different. On the one hand, we're lapping up Kitchel at Kingdom Trails in East Burke, Norwich University Trails in Northfield, Hardy Haul at Adams Camp in Stowe, Blueberry Lake and Revolution in the Mad River Valley, and Flo, the latest development in an entire network of flow in Stowe's Cady Hill Forest.
On the other hand, though, Vermont's riders have been highly critical of trail builders and mountain bike clubs for putting too much emphasis on flow trail construction. A vocal subset of experienced and longtime riders think builders are sanitizing trails, dumbing them down, and changing the character of our challenging New England riding. To these riders, we're selling out on mountain biking by opening up trails for the masses.
"It's like this 'everybody wins' mentality we have with kids these days," said one rider in the Mad River Valley. "I learned to ride technical singletrack by riding technical singletrack." He thinks others should have to learn the same way.
"It's trail gentrification," says another rider of the major redevelopment of Cady Hill Forest from old-school techy into new-school top-to-bottom flow. Further, he feels we're monetizing mountain biking, making it too mainstream, and ultimately selling out on a precious gem that Vermont had long kept secret.
If you idiots could ride it, we wouldn't have had to take it out.
Riders attacked local builders on social media this summer over the removal of a rock known as "the derailleur ripper" in a popular central Vermont locale. The spot had become badly eroded as the trail saw more traffic and less-capable riders were going around the rock, and state land managers said the rock had to go. The barrage of negativity after the rock problem was fixed led one builder to write in response, "If you idiots could ride it, we wouldn't have had to take it out."
While some are having trouble getting along, the increase in flow has its upsides for Vermont too. Plenty of expert and intermediate riders love the countless opportunities for catching air and arcing fast into turns that require little in the way of braking. And, importantly, there are now places to take beginners, kids, and families, and that was largely missing from our state until recently. A group ride can now include an array of rider types and abilities, and everyone can have fun in their own way on the same trail.
There are solutions, and finding them starts with a better understanding of the issue. Vermont's Mad River Valley provides an excellent place to dive deeper.
"All we had was an expert network," says John Atkinson of the trails in the Mad River Valley. It's a prime riding spot full of black- and double-black-diamond-level riding and a population that has been riding it for decades. Atkinson is president of the Mad River Riders and the main energy source behind new flow trails like Revolution and Blueberry Lake in Waitsfield and Warren, respectively. He says if he had asked his membership a few years ago what they wanted for the trails, we would have heard, "Don't change a thing." But he knew their club was missing an entire contingent of riders, like women, beginners, and kids, so he spearheaded the effort to bring more-diverse riding terrain by adding these flow-style trails that are designed to be approachable to as many riders as possible.
As a result, the Mad River Valley was host this past summer to Mad River Rippers, a group of 60 kids learning to mountain bike, and regular women's mountain bike clinics led by professional rider Ali Zimmer, neither of which would have been possible without these new approachable trails.
Atkinson continues, "Before we had these new trails, we had less than 50 members in our chapter and barely any women. Now we have 180 members and half of those are family memberships, meaning half of our members are women." Obviously, more financial support through increased memberships and broader participation equals more trails and a sustainable future.
The exceptional management of the construction and maintenance of these trails has also made Mad River Riders into a reputable partner for landowners, both private and public. The State of Vermont, for example, is now more than happy to work with the club and is actively pursuing additional new trail projects for state forestlands in the Mad River Valley.
Trail construction and maintenance are really all about the landowners. "When the state tells us to fix a section of trail, hearing 'don't change anything' from our riders isn't helpful. It isn't an option," says Atkinson. It is highly important to be good partners with landowners, especially if we want to, say, build more trails.
"We're planning a new intermediate trail to parallel Cyclone in Camel's Hump State Forest," says Atkinson. "It will take traffic away from Cyclone and completely change access on that hillside."
The trails are also getting easier to build and less costly to maintain with modern construction techniques. Flow trails can have the advantage of requiring less maintenance, although this is site dependent. Atkinson says that Blueberry Lake required nothing more this year in maintenance than blowing leaves and clearing some blowdowns.
"When we propose a new trail," says Atkinson, "we get asked, 'Do you have the money and time to maintain it?'" This question is increasingly easier for clubs like Atkinson's to say yes to as they build more modern trails that have lower demands for upkeep. That means his club has more time and money available to build and maintain more trails.
There is a theme developing here: more trails, better trails. But despite all these pluses, there are still doubters.
"We hear 'everything gets dumbed down,'" says Atkinson, "but that's not true. Take Cyclone, an expert trail. We've used rock; it's challenging. The riding's not getting easier, it's getting more fun." And, new modern trails designed to handle increased traffic can also divert users away from our beloved-yet-sensitive old-school technical singletrack by providing alternate routes that appeal to a greater range of abilities.
Tom Stuessy, executive director of the Vermont Mountain Bike Association, parent organization to mountain bike clubs like the Mad River Riders, points out that clubs don't have to map all of their trails, either. Clubs can decide to publicize modern trails built to appeal to the masses and take the increased traffic while keeping old-school trails, like Cyclone, off the map and set aside for the locals.
It seems if ever there were a spot in Vermont for riders to have it all—plenty of trails, a broad range of technical levels, and a contingent of happy riders—the Mad River Valley is it. But can this really exist? It can and does in other locations, and I believe it can exist here in Vermont, too.
A shining example of one network doing it all is the Sandy Ridge Trail System in the foothills of the Cascade Mountains in western Oregon, where IMBA helped the local riding community build a network of trails specifically designed for mountain biking. The network includes everything from beginner-friendly doubletrack ribbons of flow to high-end sustainable black-diamond-rated trails with rowdy roots, drops, and rock gardens. A quick image search of the place will show you what I mean.
"The response from the riding community has been hugely positive," says Eller. He attributes the outcome to including the riders from the beginning. IMBA polled the riding community and learned that, while there was a solid network of beginner trails, Sandy Ridge was missing the intermediate and advanced riding that the locals craved. And so it was built.
Eller has a few pieces of advice for riding areas grappling with the flow issue. First, he warns not to get caught up on labels. "'Flow trail' is a label that's been hung on this effort to build fun purpose-built trails for a broader range of riders," he says. But flowing trails can be beginner, intermediate, or expert. While this can be helpful terminology to describe the kind of trail being proposed, particularly when talking to landowners or the public who may not be familiar with mountain biking, a flow trail can truthfully have a wide range of appearances.
Second, Eller recommends that clubs take a system-wide approach to trail planning, rather than building one-off trails in a reactive manner. The Mad River Valley serves as a great example of a club doing just that as it expands its trail network.
Third, Eller recommends that clubs involve their local community. And therein is the solution for places like the Mad River Valley and Vermont as a whole: If you want a say in how your trails look, show up.
It's easy to sit behind a computer and voice your complaints on social media, but that doesn't actually accomplish anything.
As Atkinson points out, it's easy to sit behind a computer and voice your complaints on social media, but that doesn't actually accomplish anything. Vermonters are lucky to have a robust network of trail clubs under the umbrella organization of VMBA. This high level of organization means there are club meetings, trail-work days, group rides, skills clinics, walk-throughs with landowners, advisory council meetings, board meetings, public hearings, annual meetings, and a summer festival. There are countless ways for riders to get involved, see how decisions are made, and voice their opinions.
We shouldn't put all of our resources into any one type of trail, and no one in Vermont is advocating that we do that. A diversity of riding experiences is the goal. When our trail networks include trails that are designed to be ridden by the greatest number of users, our trails will be better supported by increasing club memberships and appealing to younger generations. More support for our trails and modern construction techniques that sustain trails into the future with fewer resources will mean clubs can be excellent trail stewards and partners for landowners and can turn their attention to building new trails. The involvement of riders who want to plan for our future by participating in their local riding scene is the only way we're going to get there.
Sarah Galbraith of Marshfield, Vermont, is an ambassador to the Vermont Mountain Bike Association and co-president of her local mountain