Frostbike gallery and tech roundup, Part 1
Originally posted on February 23, 2015 at 2:19 am
Quality Bicycle Components is the largest bicycle products distributor in the U.S. and is the brand that supports nearly every bike shop in America. It owns several of its own brands and distributes dozens of others. We traveled to QBP's home office and distribution warehouse in Bloomington, Minnesota, for FrostBike, its annual dealer show, to see what was new.
We first saw the new Salsa Warbird and Powderkeg at their official unveiling, then toured the halls. Here is what we saw:
---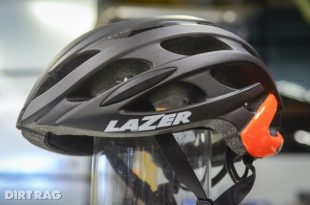 Lazer
Belgian helmet brand Lazer was showing off the new Magma and Blade cross-country helmets, which are essentially the same thing with and without a visor, respectively. The both use the latest version of Lazer's Rollsys fit system which adjusts 360 degrees around your head. It's available in three sizes for $95 or $100.
---
Wolf Tooth Components
Based right down the road in Minneapolis, Wolf Tooth Components is expanding rapidly and had several new products in the works. The first is a stainless steel version of its SRAM direct mount chainring in tiny 24t and 26t sizes. Designed primarily with fat bikes in mind, the stainless steel should last longer in super terrible conditions.
They were also teasing this 3D printing of a new ovalized chainring, which should be available soon. Unlike the BioPace chainrings of old, the current oval designs help to redistribute your pedal stroke's natural surges into a smoother motion. Many claim it also increases your power. Wolf Tooth says there will be a direct mount version of this oval ring as well.
Other variations include this 64 BCD chainring ($64) to mount to your crankset's granny gear position, and there's a nice bash guard ring that can go with it.
If you've got your hands on the latest 11-speed XTR and you're looking for an aftermarket chainring, Wolf Tooth is one of your few choices ($75) so far that matches the XTR's 96 BCD.
Is 11 speeds 10 too many? Wolf Tooth has your singlespeed needs covered with a growing collection of cogs.
---
Cogburn
QBP created Cogburn for hunters and other outdoors enthusiasts as a way to get further into the backcountry than they ever could on foot.
The 2015 edition of the CB4 ($1,999) is available in two new camouflage patterns: a safety orange version of RealTree camo and the new Verde camo pattern from the outdoor brand Kuiu.
---
Saris
The Saris Bones was first launched in 1996 and has since sold more than a million units, making it likely the most popular bike rack ever. While the shape looks good and is easy to use, the one complaint Saris wanted to address was keeping track of all those straps. The new Super Bones was designed with this in mind, and features ratcheting, retractable straps that store inside the arms themselves, leading to a cleaner look and easier storage when not in use. Also included is a theft-deterrent system that locks the bikes to the rack and the rack to the car. Even the straps have steel cables inside them that make them harder to cut through with a knife.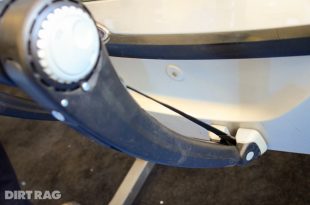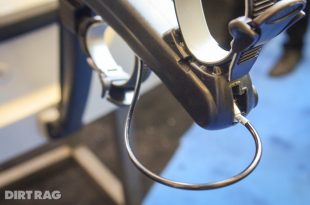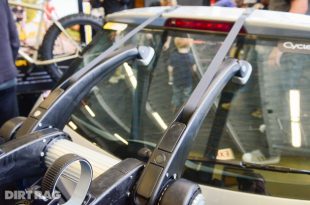 The Super Bones isn't on sale yet, as Saris wants to thoroughly test its real-world durability before its release, but expect to see it on store shelves later this summer. The price will be "less than $500."
---
Lauf
Lauf is expanding its line of carbon leaf-spring forks with a new fat bike model. It looks similar to the 29er version but is completely new, with much larger legs. Lauf says it should be on sale this summer for about $900.
---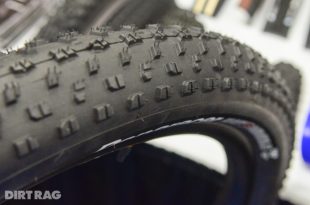 Panaracer
Spotted in the Panaracer booth were the new line of Fat-B-Nimble tires that include 26×4, 27.5×3.5 and 29×3.0 versions. They will be available soon in both wire and folding bead versions with very competitive pricing: $50-$60 for the wire bead and $80-$90 for the folding. Because of the west coast port slowdown shipping has been delayed, but Panaracer is hoping they will be available in March.
---
iSSi
When Shimano stopped selling its pedals through QBP, the distributor saw an opportunity to create its own line of high quality clipless pedals aimed at Shimano XT level. Introduced last year, the iSSi (pronounced "eee-see") design has already been updated with a new release point that results in a more positive snap when disengaged. They're also available with a standard spindle or with wider spindles—pictured at the left—in +6 mm or +12 mm for riders looking for extra clearance for big shoes (read: fat bikes in winter).
The Trail version has a larger pedal body, and both standard and Trail versions are available with upgraded sealed bearings.
Like many bike components these days, they are available in a range of colors to personalize your ride, including this limited-edition Radiant Gold.
---
DT Swiss
One of the largest and most well-respected wheel brands is getting into the fat bike market as well, with the introduction of the Big Ride series of hubs and rims. The hubs are only available in 190/197 mm versions for now, though we were told 170 mm is coming. The front hub is only 150 mm with a thru axle. They use the 350 level ratcheting internals. Retail price is $270 for the rear hub and $90 for the front.
The BR710 rims are a single wall fat bike rim with a 76mm internal width. The name is derived from its 710 gram claimed weight. They aren't tubeless ready out of the box, but DT Swiss said it is working on an aftermarket tubeless kit.
Because DT Swiss also makes spokes, naturally they offer the hub and rim combo as a complete wheelset, laced with straight-gauge Champion spokes. The BR2250 tips the scales at 2,250 grams (natch) and will retail for $1,250 when they hit stores in May.
Keep reading
Watch for Part 2 of our tech roundup tomorrow.