Ladies' Last Hurrah to celebrate final weekend of Aptos jumps
Originally posted on February 12, 2015 at 12:42 pm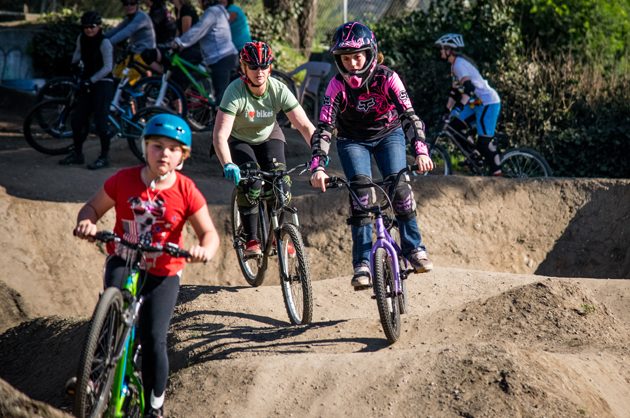 It's the end of an era. The Aptos Post Office Jumps and the accompanying pump track in Aptos, California, are being razed in February. Earning notoriety for their death-defying vert doubles and the local kids that have grown up with these jumps—both the jumps and kids are now internationally-known entities.
While on Saturday, February 14, the jumps will be over-run with riders celebrating the last weekend of the jumps, Ride On! has collaborated with Harlot Bike Wear to create a positive environment for women of all ages and abilities to ride the Aptos pump track on Sunday, February 15. The good-bye ladies' day will include a Skilz Sesh with raffle prizes, demo bikes from Trail Head Cyclery and other support from Zoic, Petal Power, El Salchichero and Dirty Jane.
Ride On! hosted a Ladies' Demo Day with Bicycle Fabrications on January 11. An impromptu break-away of gals focused on skill-building. Andrea Wayte, worked on her wheel lifts, then progressed to a manual, and said that "this is the best coaching ever!"
Volunteers Natacha Navarro, Jennifer Joy and Katelyn Praly spent the day helping the women dial in their lines. "It's really good to see women out here. It's rare for more than one or two women to be seen at any pump track, so I'm really having fun today," Navarro said.
To RSVP for the Ladies Last Hurrah on February 15, please go to the Facebook events page.
All photos by Becky Irene Photography
Video
Here's some background on the Aptos jumps from the Santa Cruz Sentinel.