Review: currexSole BikePro insoles
Originally posted on February 10, 2015 at 19:36 pm
If you think about it, the connection between your feet and the pedals is the most important between you and your bike. It's where the power generated by your body becomes forward motion through the gears. Naturally cyclists spend a lot of attention on their shoes, but what is often overlooked is the insoles inside the shoes. Even high-end cycling shoes usually come with wafer-thin strips of foam that add little if any support. They're like the cheap plastic pedals that come with your new bike—no one really expects you to use them.
I recently received a sample of the BikePro insoles, one of a number of models from currexSole that include run, golf and work. They are available in three different height profiles and your local retailer should have a gel-filled Footdisc that accurately measures the shape of your foot to make sure you select the right one.
I went with the medium height instep model and used my old insoles as a template to trim the insoles to fit perfectly. It's easy to see what a massive difference there is when holding them side by side. The currexSole insoles have a taller heel cup and a three-layer construction that is much more substantial.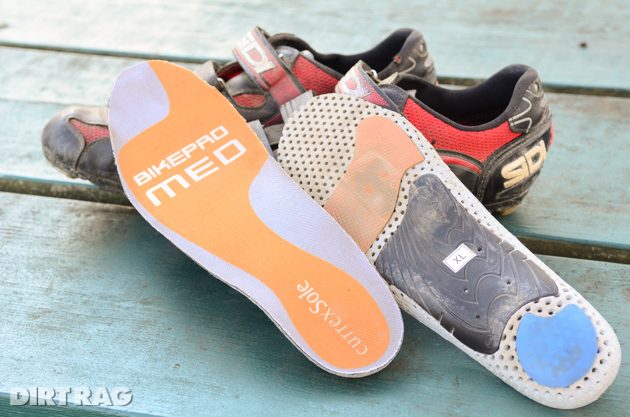 Under the ball of your foot currexSole uses a cushioning material (the orange part pictured above) that has an extra fast rebound to propel the force from your effort down into the pedals. Now, I don't have any way to test that claim but they certainly are comfortable, especially with the additional arch support. Because they take up more volume in your shoes it is easier to get a snug fit without having to tighten the straps as much, which can off blood flow and is generally uncomfortable.
If you think you know which height you'd like, the BikePro insoles are also available through the correxSole website for $60. It's certainly not pocket change but it's worth budgeting in for your next cycling shoe purchase or to extend the life of your current shoes.