How we roll: Maurice's Monkey stories
Originally posted on January 6, 2015 at 6:22 am
Ahhhh Surly's Karate Monkey. Released at the Interbike trade show in 2002, it was the first 29er to come through the doors of Dirt Rag. I reviewed it for issue #103 and later purchased it for my own use and abuse. I've had many life-changing experiences on this bike, and some near-death ones as well. My Monkey has done it all. It's been geared and singlespeed. It's been a hardtail and it's been rigid. Today it is my go-to urban assault vehicle—ready to take on the post-apocalyptic urban jungle, as well as any dirt I find along the way.
I was looking ar 'er on the train platform the other day and thought I'd mention a few things you may or may not find interesting. And in the process maybe call out a few folks who have help make this bike what it is.
My original idea was to write about Ergon's new GC-1 grips, which I was given recently, so I will do that first. Thanks Ergon! They are designed specifically for swept-back handlebars. Yes, I like swept bars in the 20-25 degrees range and I like Ergon grips cuz they keep my hands happy. If you have not tried either you might consider.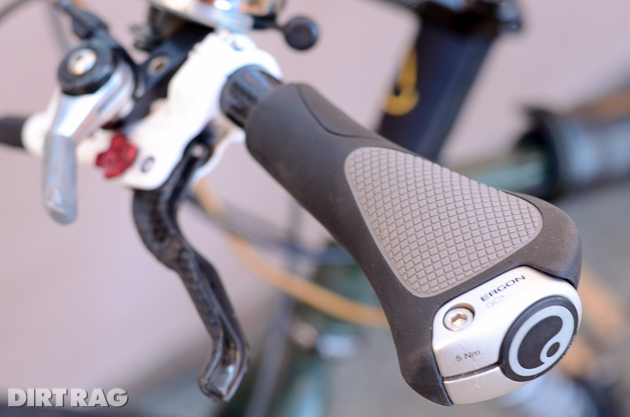 Speaking of bars, these are the second-newest part on the bike. The Spacebar Carbon OR which I purchased from Origin8. Ok, maybe the carbon is overkill but what the heck. I bought them because I like the sweep.  My sweet spot. Not too much, not too little. Just right.
You'll probably notice the brakes as well. Avid Juicy Carbon's they are. Shwag given to yours-truly some time ago, and proof of occasional—I say occasional—rock-star treatment received for being in the media. Anyway they are killer, as they stop the bike and I have not had a problem with them, and they've been around a while. When they do go away, I will replace them with the original road-pull Avid BB7's that used to be on there.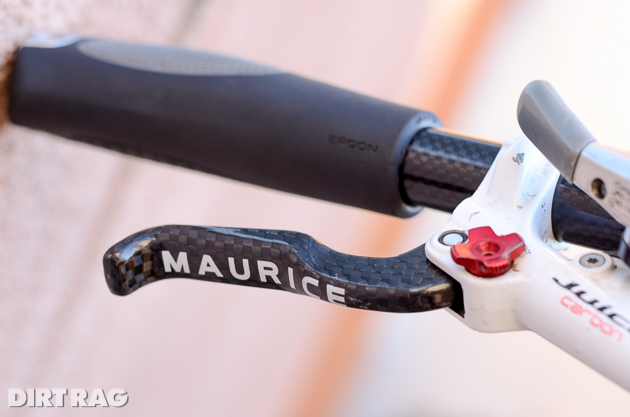 Paul Component's Thumbies provide shifting prowess. Can't go wrong there. These will work forever.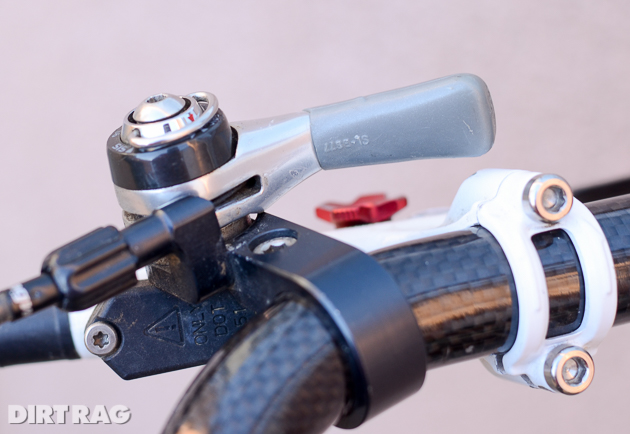 The Chris King headset has been there since birth, while the Surly head badge has seen better days.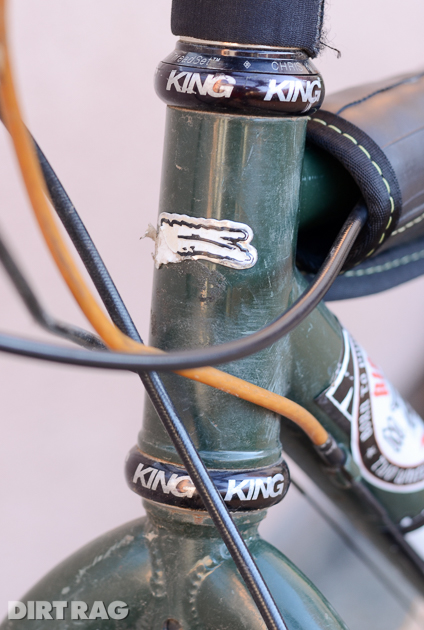 The Big Kitty sticker was made just for me by Courtney Papke. Some people think I am a cat.
The "Get Rad" Sticker was installed by Hurl over at Cars R Coffins when I was in Minneapolis one time. Top tube cover thanks to Green Guru.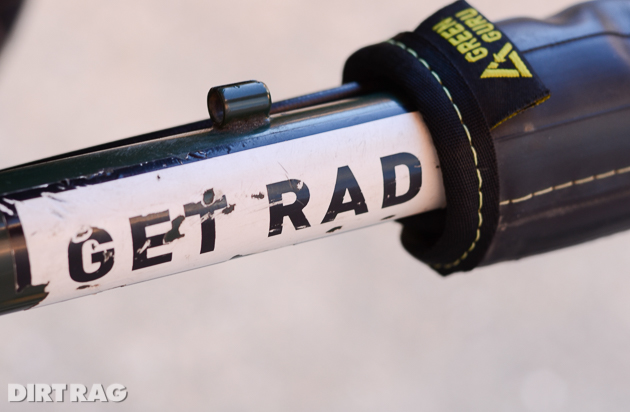 And that Schwalbe Big Apple 2.35″ monster truck tire has provided good shock absorption and long life.
The front wheel is a Sun/Ringle Rhyno Lite-rimmed monster that's been around since around the time Geoff sold the company to Sun around 1996. It has been the bomb. I have only had to press in new cartridge bearings once. It's taken everything I could throw at it. The back wheel is another story. It was taken out by a curb in Seattle, that was one of the near-death experiences I remember well.
Pedals by VP are big and flat and sticky. The Truvative Stylo cranks have fresh bearings so they work like new.
Hydration handling thanks to my good friend Robert over at Two Fish Unlimited. They make strap-on bottle cages to fit a wide variety of bottles, even full-size growlers.
So there you have it my friends. Thanks for looking!
Keep reading
We've published a lot of stuff in 25 years of Dirt Rag. Find all our Blast From the Past stories here.