Pivot Cycles unveils new 429SL carbon
Originally posted on December 12, 2014 at 13:47 pm
Earlier this year the release of the Mach 4 Carbon was big news for Pivot Cycles, as its first step into the 27.5 market. Now it has followed it up with something even bigger—a 429SL with the same carbon design, dw-link suspension and full XTR Di2 compatibility.
According to Pivot the carbon 429SL drops more than half a pound of frame weight from the previous version of the carbon 429. It also features a series of ports whereby the bike can be outfitted with any type of mechanical or electronic drivetrain with cables routed internally for a clean look. Claimed frame weight is 5.2 pounds and a complete bike can be built less than 23 pounds, Pivot says.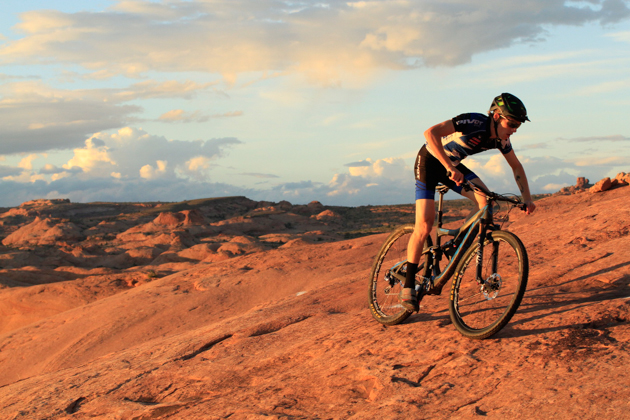 The dw-link retains its 100mm of suspension travel and can be paired with a 100mm or 120mm fork. In between you'll find a PF92 bottom bracket, direct mount front derailleur compatibility, and sealed Enduro cartridge bearings throughout. It also features internally-routed dropper post compatibility.
The 429SL is available in three colors and four sizes, with a 70.3 degree head tube angle, 12.75-inch bottom bracket height and 17.65-inch chainstays (with a 100mm fork). The Mach 429SL Carbon frame will retail for $2,999 and will be available in a wide range of builds starting at $4599 (XT/SLX) and continuing to $8,849 complete with XTR 2x and Reynolds carbon wheels, or $10,400 with XTR Di2 and Reynolds carbon wheels.
Gallery
[wonderplugin_gallery id="4″]
Correction: This post originally misstated the weight savings from the previous model. The new 429SL has dropped half a pound from the previous version of the carbon 429.