Review: Trail LED Halo, DS and XXX lights
Originally posted on December 16, 2014 at 6:48 am

As we venture into the winter months and the sun is setting before most of us get home from work, lights become a necessary accessory on our rides. And while there are tons of great lighting options out there, Trail LED has some pretty interesting products we thought were worth checking out.
I have been testing three of their models: the XXX, DS and Halo. All the lights' bodies are crafted from anodized aluminum, boast CREE LEDs as their light source, and are made in the USA. The lights have been designed so that they sit no more than three quarters of an inch off of your helmet. This is done by curving the light along the helmet's edge and utilizing the light's heat sink fins as attachment points for rubber bands which you loop through your helmet's venting holes.
I did find that attaching the lights to my helmet was slightly more difficult than a "regular" light, especially one that you can just leave a small mount always attached. The process of attaching the Trail LEDs definitely got easier over time, but set aside a minute or two to do it indoors before you go on your ride. I would caution that these lights won't fit on all helmets because of the way by which they mount. I had some difficulty attaching the larger Halo to a few helmets that had a limited number of vents. The smaller Trail LED models were more accommodating.
You can aim the beam slightly by making small fore and aft adjustments once the light is mounted on your helmet or handlebar. The lights also ship with small pads that can help with overall fit and aiming the beam. I did not find that the lights needed much if any adjustment on the helmets I used them on.
Quick Specs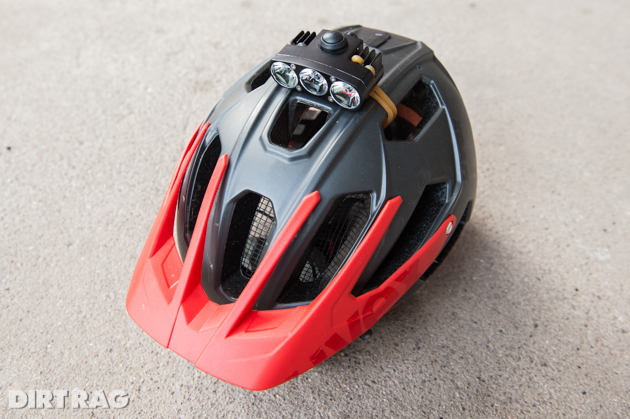 XXX
Price: $350
Light weight: 50 grams
Battery weight: 285 grams.
Runtime: three hours at 1,800 lumens, six hours at 900 lumens, 27 hours at 200 lumens.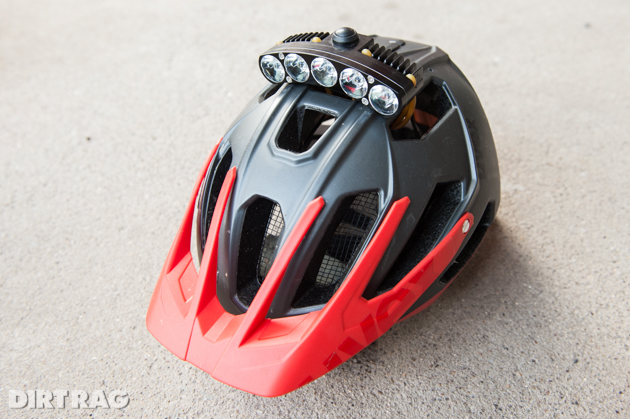 DS
Price: $550
Light weight: 100 grams
Battery weight: 285 grams
Runtime: 1.5 hours at 3,000 lumens, 3.2 hours at 1,500 lumens, 16 hours at 300 lumens.
Halo
Price: $1,119
Light weight: 190 grams
Battery weight: Battery 570 grams
Runtime: two hours at 6,000 lumens, four hours at 4,000 lumens, 38 hours at 600 lumens.
Runtimes and battery charge times (one and a half to two hours) are pretty spot on. I did not test the lowest, longest lumen runtimes because I have better things to do with my day.
My Thoughts
The lower lumen settings on all the lights were dimmer than I was expecting for their quoted brightness. I didn't have a way to quantify the actual lumen value, just my observation. This doesn't really matter because if you are buying a 6,000 lumen light, you are going to be running it at 6,000 lumens. I mean what's the purpose otherwise?
The XXX is a great, small, triple LED light that worked well as a supplemental light on my handlebars utilizing Trail LED's handlebar adapter. Beam pattern is good and 1,800 lumens is more than enough for all applications.
The Halo is seriously bright on its full setting. Pitch black to daylight at the touch of a button. The beam pattern is amazingly good for a light system that curves around your head. There is a nice, bright mid-level spot and all of creation is lit well from there on out. You might get some odd looks from people, but this light is no joke.
The DS is probably my favorite of the lineup. Offering 3,000 lumens for an hour and a half is more than enough and seems to be brighter than the 4,000 lumen setting on the Halo. It's also a lot less strange looking on your helmet. Due to its smaller size it is easier to attach to a wider range of helmets. For instance, my Bern helmet has no side venting so the Halo's ends are not as fully secured as they are with the DS.
As with any helmet-mounted light there is lack of shadow detail, so 6,000 lumens on your head might not be for everybody. Mounting a light to the handlebar can bring back some of that detail, but that is only an option for the XXX and DS – the Halo is helmet only.
I'm significantly impressed with these lights. They are light, bright, have a crazy low profile, feel incredibly solid, and keep you riding through those dark nights and mornings. What more could you ask for?
Extra special tidbit…Trail LED has recently signed a partnership with Industry 9 to do its anodizing, allowing it to keep manufacturing in the US. Here's to hoping we get some cool color choices too!
Gallery
Check out the gallery of the XXX, DS, Halo and tests in the field.
 [wonderplugin_gallery id="2"]