Blast From The Past: Specialty Files—1981 Lawwill-Knight Pro Cruiser
Originally posted on December 4, 2014 at 6:55 am
Editor's note: This edition of the Speciality Files first appeared in Dirt Rag issue #168 in February of 2013.
---
By Jeff Archer
Back in the earliest days of off-road cycling, there were two different sources for bikes: klunkers and cruisers. Klunkers were typically based on prewar balloon-tire machines that were modified for off-road use with their fenders, horn tanks and chainguards removed while gears and brakes were added. Cruisers were based on oversized BMX bikes that had additional gears installed. Because BMX cruisers were already designed to be ridden on dirt, it would seem a better starting point than heavy 50-year-old balloon-tired bikes.
One such cruiser was the Lawwill-Knight Pro Cruiser. Here's the story as told by Mert Lawwill: "Back in the middle 60s Terry Knight of Knight Frames and I were partners making frames for Harley-Davidson flat trackers when we decided to make some BMX frames but Don Koski from the Cove Bicycle Shop in Tiburon, California, convinced me to make mountain bike frames instead. That led to making a complete bicycle, which I called the Lawwill Mountain Bike. I couldn't get any dealers because they said no one wanted a mountain bike at that time so Terry and I re-named the bike the Pro Cruiser since cruisers were big then.
Once the name changed, there was no problem getting dealers. Terry and I would build frames in batches of 50, which up until then custom mountain bikes were made one at a time—that was late '70s by then. The problem I had was that I was still racing flat track motorcycles and would leave for the summer to race, which left no one to run bicycle production. So, in 1982, I stopped and just did motorcycles. I think around 600 total of these were made."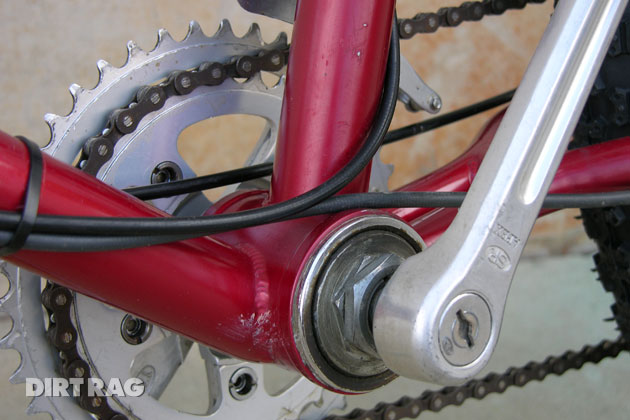 Cruiser frames typically used BMX bottom bracket shells with adapters for three-piece cranks. Headsets, bars, stems, forks, rims, tires, pedals, brakes and levers were other parts that were commonly sourced from BMX bikes. Lawwill's Pro Cruiser was offered in both drum brake (B series) and caliper brake (A series) versions. This particular bike is a B series fitted with Sturmey-Archer drums. Another standout component is the unique Lawwill four-bolt handlebar stem. Drivetrain components are a standard mix of early 1980s Shimano, Suntour and SR parts.
As bike builders began using rider input, purpose-built mountain bikes became much more competent in the dirt compared to modified klunkers and cruisers, but the two styles still survived the early 1980s because custom bikes were out of financial reach for most riders. When production bikes, such as the Specialized Stumpjumper and Univega Alpina Pro brought prices down, these hybridized bikes lost market share and mostly disappeared.
Mert Lawwill later designed Gary Fisher's RS-1 rear suspension, the Lawwill Leader suspension fork, and rear suspension for Yeti and Schwinn. For these efforts, Mert was inducted into the Mountain Bike Hall of Fame in 1997.
This bike can be seen at the Museum of Mountain Bike Art & Technology in historic downtown Statesville, North Carolina. If you can't visit in person, check out the collection at www.MOMBAT.org.
[wonderplugin_gallery id="1″]
Keep reading
We've published a lot of stuff in 25 years of Dirt Rag. Find all our Blast From the Past stories here.