Trail Talk With Cush
Originally posted on December 2, 2014 at 13:26 pm
"Oh Shit!"
That's all I heard as I rolled past the young walker on the gravel towpath aboard my Borealis Echo fat bike tester. I was riding said path as part of a pre-run for the 125-mile D&L Fat Bike Epic in Pennsylvania—an event I'm most surely not going to do.
The 50-mile ride served as an introduction and indicator for me to fat biking in general. While to most of us in the world of Dirt Rag know and love fat bikes, the majority of walkers, joggers, fitness riders and 'cross racers who use the tow path generally just stare in wide eyed surprise at the two-wheeled monster truck rolling by. What I also noticed is that little kids, especially little boys, love the huge wheeled machine. My guess is because in their eyes it's a real life bicycle replication of a Tonka truck.
As for the ride, it was a friggin' blast. After some experimenting with tire pressure (going up from a trail-friendly 7 psi to a quicker and less squirmy 12 psi) the fatty rolled along nicely on the open, smooth path. Once up to speed it felt like there was no slowing down. With the smile still on my face from that day, I'm watching it snow, really snow, for the first time this season. While getting out today might not be in the cards I know my fat bike is ready and waiting in the garage for some real winter trail riding just around the corner.
Maybe I will enter that race after all.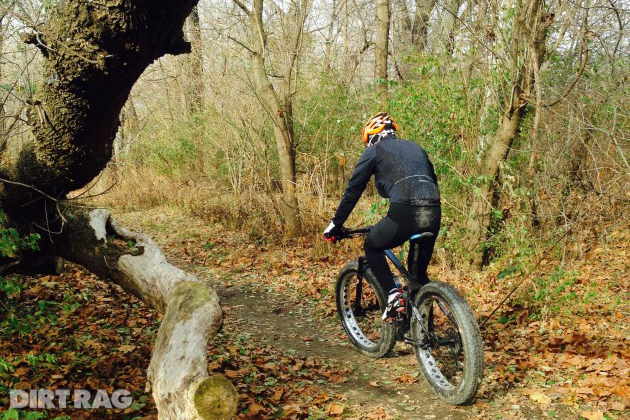 ---
Moab BLM classifies e-bikes as motorized vehicles
In case you missed this nugget of news silently released last week, in a move that might well set a precedent across the nation (and one I wholly support) the Moab office of the Bureau of Land Management (BLM) has classified electric bikes as motorized, a move that bans them from any trail not open to gas powered vehicles, which includes most if not all singletrack. More information can be found here at the official website.