Review: Giro New Road Thermal Tights
Originally posted on December 5, 2014 at 13:04 pm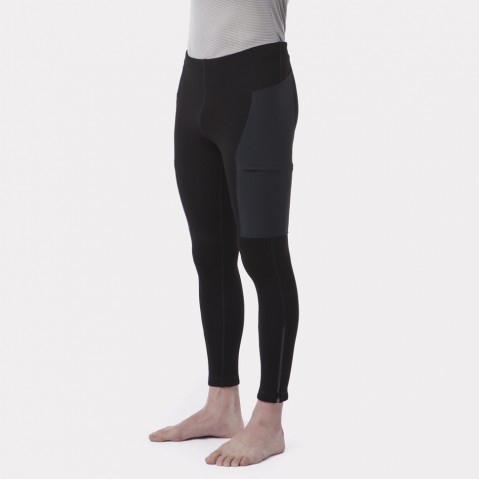 Don't let the inclusion of the word "Road" fool you into thinking these (or Giro's entire New Road clothing line) are dedicated to skinny tire pavement riders. A great pair of winter tights is a great pair of winter tights no matter where you're riding.
Bits and Pieces
Construction is from a nylon/Spandex mix with wool as the insulator. They're stretch woven for comfortable conformity in the cycling position. The tights, as a nod to their commuter roots have a small, exterior zip pocket and stow pocket on the outside of each thigh. They come sans chamois and are designed to go with Giro's thermal or standard under bib.
With temps dropping into the low to high 20's it's been prime time for me to layer-up with thermals. I've been using various thermal bibs under the Giro's tights and obviously any of my favorites work just fine. The tights use a drawstring at the waist, which I found to be non-intrusive. If I was wearing only the tights I'd prefer bib-style but when layering it beats having two sets of straps over my shoulders. I also appreciated the zippered lower legs for ease of putting on and taking off. Retail price is a sensible $160.
Riding Conclusion
Like I mentioned, on these really frigid days I've been using insulated shorts or knickers under the Giro's for added warmth and have been completely comfortable on the road and often a touch too warm (which is good by me) on the trail. Wind blocking protection isn't amazing but once you get moving the insulating properties of Giro's offering quickly bring the warmth level up to cozy. I've also been enjoying the stash pockets; it's much easier to reach food right on your leg with a gloved hand compared to having to reach back into a jacket pocket. Durability in the woods has proven to be excellent.
If commuting is your thing, Giro says its New Road Thermal Tights are slightly shorter in the legs to be discretely worn under chinos or jeans.
There's no doubt these are quickly becoming my go-to choice not only because of performance but comfort as well. One note, be prepared to go up one size, they run small.