Specialized revives Sequoia name for adventure road bike
Originally posted on July 11, 2016 at 15:01 pm
The first Sequoia bikes were designed by Tim Neenan as a road bike with an adventure attitude. The second generation, designed by Jim Merz, evolved into a full-blown touring rig to take you around the world. The name appeared on a series of, let's say, "less-than-exciting" hybrids and city bikes through the years, but has made a grand return with this new 2017 touring model, hitting dealers in mid-August.
Specialized flew a collection of media slime like myself out to beautiful Western North Carolina to sample the bikes and get the story from both the Adventure Team that inspired them and the engineers that created them.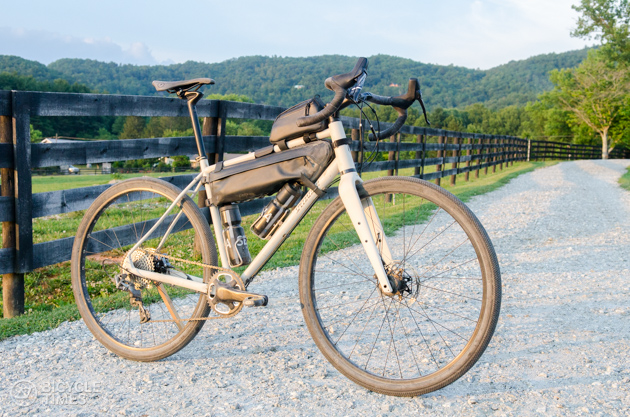 The new Sequoia is Specialized's take on a modern adventure touring bike. That can mean a lot of different things to a lot of different people, but there's no denying the proliferation of rackless bags has brought a new generation into the fold of bicycle travelers. And while racks and panniers can take you across the country, many riders are just looking for a way to get the essentials out for a weekend.


While the existing Specialized AWOL model (steel touring bike) dips its toes into the off-road realm, the Sequoia is more road-oriented and slots squarely between the AWOL and the Diverge in the Specialized lineup. You could keep it lean and jump into a paceline or load it up with racks, fenders and cargo and hit the trail.
The new 700x42c Sawtooth tires roll exceptionally well on the road and their stout, tubeless casing held up on singletrack. Specialized says the Sequoia it will fit up to a 700×45 tire (that's officially but you can probably squeeze more in there), and it will fit the 650×47 version of the wheels and tires that are coming soon. More on that in a moment.


The frame is a selection of custom-drawn chromoly steel tubes, and each one is specifically shaped and butted for each frame size to ensure a consistent ride quality across the five sizes. No two sizes share any frame tubes. The geometry is comfortable, with a low bottom bracket and more upright fit, but not so relaxed that you can't put the hammer down when you want to. Details on the frame include a threaded bottom bracket, 142×12 thru axle, flat mount brake caliper mounts and a third bottle cage mount under the downtube.


To go with the new frame is an all-new carbon fiber fork. Not just a repurposed cyclocross fork, the new unit was designed specifically for this bike with a 12 mm thru axle and bottle cage eyelets on the legs that can hold 5 pounds each. It too has the new flat-mount caliper mounts, and even a hole to run a dynamo hub wire inside the right right leg. Specialized offers an AWOL model with a dynamo hub, so don't be surprised to see a special edition version of the Sequoia with one down the road.


Not content to grab parts off the Specialized shelves, the design team also went about designing a new wheelset. The Cruzero wheels are tubeless compatible and offer a stout 25 mm rim width. The hubs were designed specifically for this application as well and roll on sealed bearings for the Cruzero wheels and standard bearings for the less expensive Hayfield variation. The wheelsets will be available on their own in the near future, Specialized says, in both 700c and 650b.


To wrap around those wheels Specialized has released an all-new tire in the Sawtooth. With versions in 700×42 and 650bx47, with either black or tan sidewalls, it was the standout performer of our time on the bikes. Designed from the ground-up, it uses Specialized's latest rubber compounds and tubeless technology, with an all-purpose tread design that held its own on the rocks and roots of Pisgah singletrack. They roll well enough to paceline at 25 mph and cornered well on the gravel and dirt. Our group of about 20 riders put nearly 2,000 miles of abuse into these tires over three days and we suffered only one flat. The Sawtooth tires will come stock on the Sequoia and will be available separately for $40.


While many riders appreciate a more upright riding position, the downside is that often your steerer has a giant stack of spacers or you have a goofy upright stem. Specialized is trying to distribute that stack height with its new riser drop bars, the Hover. It has a small amount of rise built in along the center, allowing you to keep that stem flipped down or just offering a little more height. They also have a bit of flare to the drops too. The downside is that you have less room to mount accessories on the center portion of the bars, and the aesthetics are … unique. Riser drop bars. What will they think of next?


To go with the bars is a new line of canvas and leather handlebar tape and saddles that look great with the understated graphics on the Sequoia. The CG-R seatpost is probably a love-it-or-hate-it component, though.
Sequoia models

Sequoia Expert
$3,500
SRAM Rival 1×11
Cruzero wheels

Sequoia Elite
$2,000
Shimano 105 2×11
Hayfield wheels

Sequoia
$1,300
Shimano Sora 2×9
Hayfield wheels
Steel fork
Sequoia Expert frameset (not pictured)
$1,200
The frameset version of the Sequoia will be unique, with a stainless steel downtube and chainstays, plus a white to black vertical fade paint job.
Update
A few folks have asked me how this model fits into the current Specialized lineup and what kind of rider it is for. The new Sequoia might not be revolutionary, but it's a great option for folks looking for a steel version of the current crop of big-tire road bikes. While it's obviously not as sporty as the carbon or aluminum Diverge, it's still more go-fast bike than an AWOL or even bikes like the Kona Sutra or Niner RLT steel. I don't have an official weight number but I'd guess it's around 20 to 21 pounds. The bike that it reminds me of the most is the Specialized Tricross, but obviously reimagined for a more discerning performance-oriented customer.
More photos
Photos by Beth Welliver – Specialized

Coming up next
You might see quite a few new accessories in these photos. More on those in the next post…