A little rain but big smiles at the Little Big at Truckee Bike Park
Originally posted on October 20, 2014 at 15:55 pm
By Joh Rathbun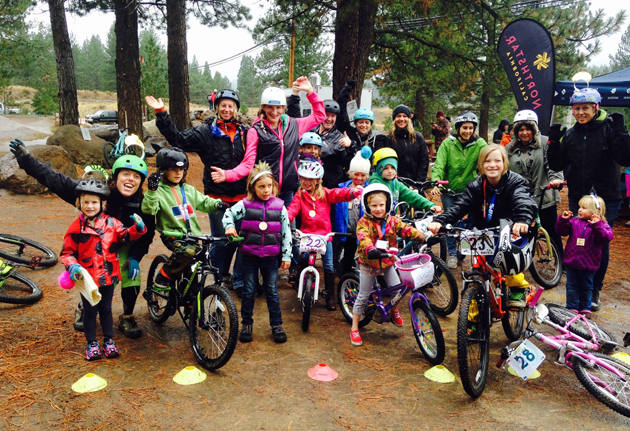 Torrential rain was driving out of the sky and pooling in the soft, welcoming dirt. Washing away a dry summer, the rain didn't let up, but it didn't stop some of mountain biking's luminaries from teaching women of all ages at the Truckee Bike Park at the annual Little Big event.
The brainchild of Cortney Knudson and Brooks McMullin, the Little Big enlisted local talent in Truckee like Bob White to make the mountain biker's playground a reality. The caliber of the clinic was clinched with coaches like Lisa Mason of the Women's Freeride Movement (WFM), Stephanie Nychka of Slope Sistair, Kat Sweet of Sweetlines, and Lindsey Voreis and Angie Weston of Ladie's Allride.
Features of the Truckee Bike Park include a dual slalom course, a progressive-skills drop zone, a BMX track and a pump track. With all proceeds of the Little Big going directly to the bike park, it will help complete the community's vision. The next phase of construction will include a cross-country loop, which will also double as a short track that will be used for demos as well as races, and also a more advanced dirt jump line.
Jaime Shreeve, who drove up from San Rafael to take the clinic, and is new to bike parks, said, "I love this clinic, we have great coaches, and a bike park is a great way to learn new skills. I'll take this clinic every year, as it's that fun. I'm even learning manuals!"
Cortney Knudson, the event director, certified mountain bike coach and a life-long local, held the event even though thunderstorms loomed ominously on Saturday. While threatened with sprinkles Saturday, the storm clouds followed through on their promise on Sunday, and the competition was rained out.
With a great turnout though, the competitors stayed off of the track and had casual 'breaking,' and 'slow' races. "Even though the comp was canceled, people still drove up and donated for the Truckee Bike Park, so it was really cool. Thank you so much!" Knudson said. "Also big ups to all the volunteers, and Brad Pastier of Specialized Bicycles, who brought tasty P-series demos for the clinic, and downhill bikes for the coaches."
Knudson is learning to jump and ride downhill bikes at 41. "If i can do it, anyone can do it," she said. "You just need to figure out the recipe before baking the cake, for a delicious cake. You don't wanna burn it, or put too much flour in it, so with the proper ingredients, and following the recipe, your cake will turn out well."
Working with Truckee Parks and Recreation, the Truckee community built this paradise at Joerger in under five years. Knudson advises communities looking to build the two-wheel stokage: "Follow your passion, and don't give up… work as hard as you can, and you will sleep well. When you build a bike park, the pump track is something that we built, and it's pretty big, and it's so satisfying, because it's eating the cake that you just baked. It's proof that following your passion, and having determination will provide for you. The Little Big is kinda like a walk-a-thon, but for the bike park. Everyone in Northern California benefits from this. As such, we are rescheduling the comp for spring."
With the wide range in ages at the clinic, from 9-year-old Hahna Norman to 40-something-year-olds, the Little Big made good on its promise of a dirty good time, for both the little and the big, regardless of the storm.
The bike pack could also use your help to complete the next phase of construction. To learn more or donate, check out the Truckee Bike Park Facebook page.
Little Big 2013
About the author
Joh Rathbun is a mountain bike coach, ride guide and action sports writer currently based in Santa Cruz, California. To stay up-to-date on West Coast events, like her Facebook page, or find her through her website.