Inside Line: Jeff Jones unveils new Jones Plus model
Originally posted on September 16, 2014 at 6:24 am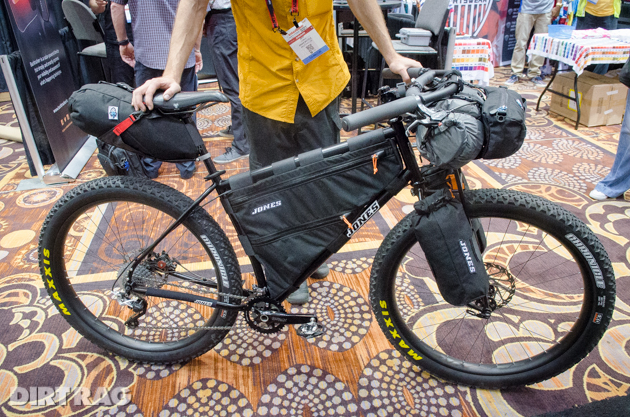 Jeff Jones has been toying with the 29+ concept for years, long before it became a reality thanks to widely available tires. After a lot of experimentation, he has unveiled his second model, aptly named Jones Plus. Built around a 29×3.0 tire, it bucks many industry trends in achieving what Jones said is a spirited ride.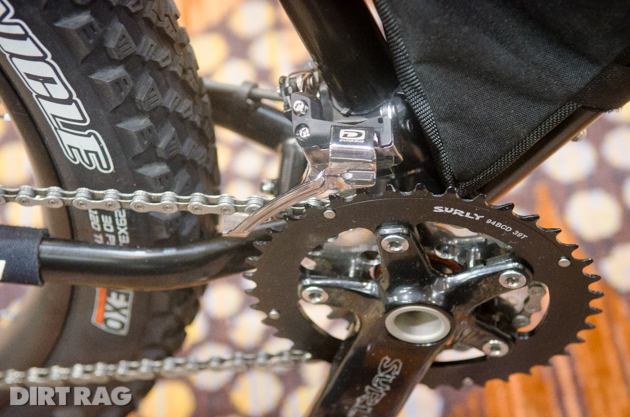 "I did not design this bike based on market research, a reaction to what other people were making, or because people were suggesting I make 'this' bike or 'that' bike," Jones said in an email. "I realized that I do not need or want a bike that has the absolute shortest wheel base possible for every ride, and I knew that you don't need to have a steep head or seat angle to have a responsive bike that is fast, efficient and comfortable."
While most bikes these days have steeper seat tube angles, shorter chainstays and longer front-centers, the Jones Plus is the opposite in nearly every respect. It has a massive 19-inch chainstay for huge tire clearance paired with a slack 71 degree seat tube angle and a shorter reach. The truss fork has a huge 76mm offset to quicken the steering from the 67.5 degree head tube angle, as well as a new 142×15 thru axle hub with front-specific rotor spacing. By adjusting the eccentric bottom bracket to its highest position, the bike can also be used with standard 29-inch tires.
Unlike the original model, the Jones Plus will be available in two sizes, with either a 24-inch and 25-inch top tube. According to Jones the 24-inch size has a very similar fit to the original Jones and its 23-inch top tube. Another benefit of the bigger frame is the ability to carry larger loads in the Jones framebags that are purpose built for the bike by Porcelain Rocket. It also has multiple rack and fender mounting positions.
Yes, it's long, but Jones says that's kind of the point—after all, the prototype was nicknamed the "Long Ranger" for a reason. He says that that length provides a ton of stability and traction, while the slack seat tube centers the rider between the wheels.
Carbon H-bar

Even more recognizable than his frames are the Jones H-bars. This year he is introducing a carbon fiber version in both the Loop and the Cut styles. Due to feedback and confusion from customers, the Cut H-bars now feature extra room to mount shifters and dropper post remotes.
Correction
This post originally misstated the size of the front axle.