At the Helm – Mike Sinyard of Specialized and the Stumpjumper Expert Carbon World Cup
Originally posted on August 25, 2014 at 15:38 pm
Editor's note: "At the Helm" was a project we undertook earlier this year as part of our 25th Anniversary celebration. Four bikes, four companies, four founders. Much like Dirt Rag's own history, each of these founders has seen rough times, but the ship still sails with a firm hand on the wheel. The stories you'll read in the next few weeks aren't just about the bikes, but also the history and the men behind them.
Mike Sinyard has had his far share of controversial moments, including the latest dust-up about Specialized's overzealous pursuit of a trademark defense. We get into that and review the spiritual successor of the original Stumpjumper in the form of a Stumpjumper Expert Carbon HT World Cup.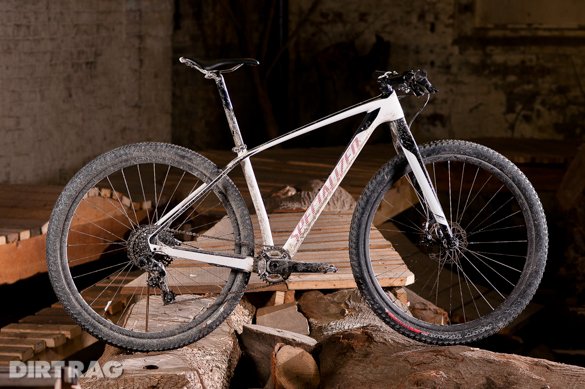 Specialized's 1970s beginning and subsequent rise to the top of the cycling industry has been well documented through the years. But there were times right about in the middle of the company's current lifecycle when things weren't quite so rosy. This is the Mike Sinyard's Specialized that isn't oft spoken about.
In 1974 at the age of 24, after graduating from San Jose State University at California, Sinyard followed his heart by selling his van and traveling to Europe for a bicycle tour. It was here that he became acquainted with makers of rare to the U.S. high-end parts. Knowing that these Euro bits would be gold to racers in America, Sinyard used the last of his travel money to buy a small inventory to bring back to the States. His hunch was correct and the parts sold out in short order.
Lacking money to purchase another round of components to sell, his next move was crucial: he drew up a handwritten catalogue and convinced bike shops to prepay on orders. Specialized was born. For mountain bikers, Specialized became a game changer in 1981 when it created the first production mountain bike, the legendary Stumpjumper. Five hundred were initially made and they quickly sold out.
In 1982, the now blossoming business moved out of its warehouse in San Jose and into its current and much larger Morgan Hill location (although it looked quite different then.) It was a time of great success and innovation for Sinyard and his brand, but when the mountain bike scene progressed into the mid-90s the sport began to stagnate. Specialized, like most of the industry, began to look for different ways to turn a profit. On the advice of newly hired, out of industry executives Specialized took a stab at the mass market in 1995 with a entry-level brand dubbed Full Force. It was ultimately a disaster that put Specialized within a few hundred dollars from bankruptcy as loyal bike shop dealers quickly began to disassociate themselves.
"In that period Specialized and I as a leader really lost the right way for the company," he recalls. "In hindsight it was a good thing because from all those mistakes, which I term 'a near death experience' we as a core group got together and said, 'we have totally blown it. What do we believe in and what are we about?'" Sinyard spoke of going to his backyard and having four or five meetings with key employees to find exactly what they believed in and how they should be operating. "Through that we developed our principles, which we had before but they weren't written down. We said this is the way we work and we created our marching orders and that was kind of the rebirth of Specialized. It's like if you think of a person that gets very sick and finds a way out, they're even more focused."
But it wasn't smooth sailing yet. In 1995 Sinyard also formed a holding company called The Epic Team with another mountain bike pioneer, Tom Ritchey. It was during this short period that Sinyard almost lost his company for good. "I would say I was the CEO but not the president of Specialized at that time. It was a time of not being focused or clear," Sinyard relates. "Ritchey, he's a hugely talented guy but it wasn't meant to be for us to team up like that through no fault of his, probably mostly mine." In less than two years the Epic Team unwound. "I felt if something's not right, just look in the mirror and say it's wrong and fix it quickly. Don't be in the mode of trying to defend it.
"It wasn't adding any value for bike riders and it was a misconceived idea and I was the one that misconceived the whole idea. I thought this would be a way to work together and do things but it wasn't right and at the same time we abandoned [Full Force]. It was a time to get together as a team, become focused and realize our mission of being the brand of choice for the discerning riders and the best dealers."
As the company's credibility and profit plummeted those non-bike industry executives jumped ship as quickly as they came aboard. Left with little, Sinyard made an unprecedented move and wrote apology letters to all of his dealers for creating Full Force and going mass market. He says it took nearly three years to regain the dealer network that previously existed.
From there Specialized focused completely on innovation, creating ultra-light equipment, frames and the now famous Epic full suspension mountain bike among other things. But that wasn't enough. In 2001 word leaked that Specialized had been sold—bought by Merida Industry Co., Ltd, a Taiwan based bicycle design, manufacture, and sales company. In reality Merida came on as a minority partner, now owning 49-percent.
"Specialized will always be a private company but we never had any capital and I saw a lot of companies going public and getting this venture capital and I said that is not the way." Sinyard says he looked to Asia because they have a much longer view, they could look at it and say how good will this be over the next 100 years as opposed to how good will your next quarter be. Looking at it that way and identifying goals with a minority investor was a powerful move and has allowed him to continue doing what he's doing today.
"I call it the long ball. Sure we want to do well but we want to well over the next 20 to 30 years. We don't have a gun to our head to say how good will we do in the next quarter. That's a big difference. You can see companies that have that pressure and then they say, 'let's cut this and lets cut that and how do we make it look good right now as opposed to how do we create the best sustainable business to serve riders and continue past a lifetime…my lifetime.'"
Through it all Sinyard has always kept a very hands on approach and while this has led to some PR disasters one continuing trait is that he has no problem taking responsibility. "I would say there are always people that will say things but it's judging by long term results, what have we contributed to the sport, what have we contributed to the long term?"
When questioned about his most recent PR blunder Sinyard made no excuses. "With Café Roubaix, the way that went down, I earned that problem and it's solved. As soon as I called [the shop's owner] I knew it was solved." As a direct result of this Sinyard has completely changed, and added additional filters to the process to make sure it "really is what it is" before lawyers get involved. "I get letters from riders or bike shops all the time about things we have or have not done and I take it very seriously. If things don't work or it's not right, we try and be pretty intense about it. Some of those things, and Café Roubaix in particular was mismanaged by me and the only thing I could do was solve it and operate differently going forward."
After 38 years when the question of retirement comes up Sinyard responds simply, "It's like asking when are you going to stop riding your bike? Well…" He maintains that he'll always be involved in some capacity because it's stimulating, but he will continue to evolve, empower and engage other people to step up into leadership spots. His personal role may change, but he's not going to stop.
As for the next 25 years? Sinyard has a quick answer for that as well "I want Specialized to be a thought leader on how cycling can change peoples lives and try to do that through various activities. That's where I'd like it to be in 25 years. Young people may come to the company or those looking from the outside may think, 'Oh it just started off as a success and stayed that way the whole time' Not true, it's been quite a journey and we talk about that every day."
In 2014 Specialized has a host of technologically advanced mountain bikes as famous as that original Stumpy: Epic, Enduro, Stumpjumper FSR and Demo, which have defined a dedication to Sinyard's company catchphrase, Innovate Or Die. But roots aren't forgotten either. As this fully rigid Stumpjumper Carbon Expert World Cup shows, the ideals of the original bike still live even if the only thing in common is being rigid. Notably the frame and fork are now full carbon fiber and the bike actually has fewer gears than the original.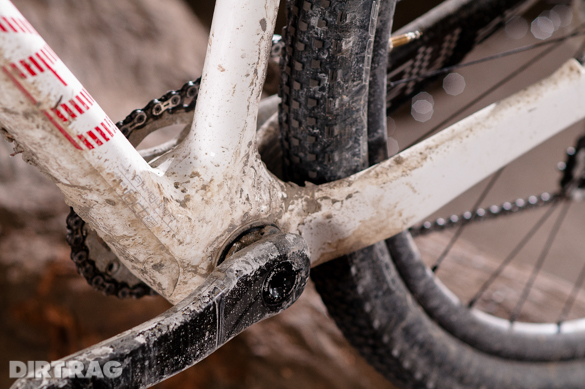 This modern Stumpjumper frame is made from Fact 10 carbon fiber, that means while the ride quality is excellent, it's a few grams heavier than the top shelf S-Works frame. For a bike like this, S-Works-level carbon seems overkill anyway. The Specialized Chisel fork is full carbon and as you'd expect, light as a feather. Like the Epic and S-Works Stumpjumper, it gets the World Cup designation because of its SRAM 1×11 drivetrain. All WC frames are dedicated to a single ring in front—there are no derailleur tabs or even accommodations for a chain retention device.
As such, SRAM's excellent XO1 parts group performed perfectly. Shifting was crisp and precise and the 32-tooth front ring mated to the 10-42 rear cassette was spot on for most everything, even grunting up the steepest pitches. If you ride long fireroad descents you may find yourself spun out on occasion. Still, uphill acceleration is a fair trade for a bit of tucked in rest on smoother descents. Even on the roughest sections I never threw a chain, which has been par for the course with SRAM's single chainring system.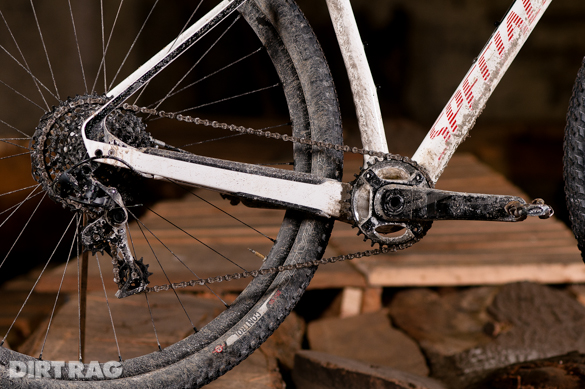 The 1.3-pound Chisel fork is constructed from uni-directional, carbon monocoque with an integrated alloy headset bearing race. Introduced last year, it has standard QR dropouts and while Specialized's carbon Roval wheels feel plenty stiff and steer solidly, a 15-mm thru-axle would be a great compliment to the overall feel provided by the 142×12 rear dropouts. With Shimano XTR pedals, the Stumpy weighs in at a touch under 20.5-pounds.
On the trail it's whippy, fast and fun. Staying on your toes is a must in technical terrain because although the frame and fork have a degree of compliance built in, it's still a rigid frame. The stout front triangle, laterally stiff carbon wheels and race geometry can start to feel twitchy as speeds increase. The short stays and wheelbase also help justify the bike's World Cup moniker—at 16.92 inches and 42.44 inches respectively on a size medium it's among the tightest in the business for a 29er—with a shoot to thrill trail personality that rewards aggressive, attack style riding.
Let's be honest. The Stumpjumper Expert World Cup is a race bred machine right out of the box. I added two water bottle cages and Specialized SWAT box to carry a tube, tire lever and Co2 kit and was immediately thinking about the Leadville 100, a race this bike is designed for. The bike is amazingly fast on smooth serpentine singletrack and long fireroad sections that require constant attention and acceleration to keeps speeds high. Climbing speed is only limited by your personal engine. Dabble in gravel racing as well as cross-country? With this machine you won't need a second bike.
In a nutshell, for more aggressive terrain and non-racers it might become an uncomfortable handful. For the experienced trail fighter pilot it's a weapon of mass destruction.
Vital stats
Specialized Stumpjumper Expert Carbon HT World Cup
Price: $5,000
Sizes: S, M (tested), L, XL
Online: specialized.com.com
Wheelbase: 42.4 inches
Top Tube: 23.3 inches
Head Angle: 71 degrees
Seat Tube Angle: 73.5 degrees
Bottom Bracket: 12.2 inches
Rear Center: 16.9 inches
Weight: 19.8 lbs (w/out pedals)
Keep reading
Watch for more At the Helm stories over the next few weeks. We have interviews with Joe Breeze of Breezer, Jeff Steber of Intense and Chris Cocalis of Pivot. This article originally appeared in Dirt Rag #176. To help support the magazine and keep new issues flowing to your door, order a subscription today.